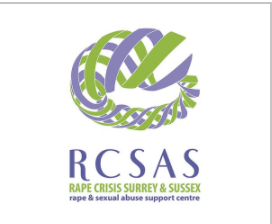 RCSAS was set up in 2014 as part of the Ministry of Justice's commitment to expanding the number of centres around the country that are specialist violence against women and girls organisations. Rape Crisis South London (RASASC), which was established in 1985 as part of a Women's Aid project, won the tender to establish the centre along the same lines and professionalism as the South London centre.
We are a women-only independent organisation based in Crawley, providing a high standard of professional support to female survivors of sexual violence. We are a member of Rape Crisis (England and Wales) and adhere to their occupational standards of service delivery. We are a British Association of Counselling and Psychotherapy (BACP) Accredited Counselling Centre. RASASC are members of NCVO, VSF CVA, SVA, RAINS, Eating Disorders Association, Self Harm Network, First Person Plural, Women's Resource Centre, and London Women's Consortium & Telephone Helplines Association.
We have won an Investing in Volunteers Award, Helpline Worker of the Year from THA, a Commendation Award from the Sustainable City Awards in 2010 and Winner in the Croydon Community Civic Awards 2014.
Core Services
NATIONAL HELPLINE: Freephone 0808 802 9999. Open 365 days a year, 12-2.30pm and 7-9.30pm. Staffed by fully trained helpline workers. Clients: Women and girls aged 13 or older who are survivors of rape or childhood sexual abuse; family, friends and partners of survivors; other professionals. Provides:

 Emotional support for survivors of sexual violence and supporters of survivors

 Information supplied free of charge.

Regional and national information resource and signposting to other agencies in the UK.

 COUNSELLING: Monday - Friday, 10am-7pm. Up to a year (longer in more complex cases). Fully qualified counsellors, specialists in the field of sexual violence. Clients: Female survivors of rape, childhood sexual abuse/exploitation, trafficking, ritual abuse, or any form of sexual violence, who are aged 13 or older.

 Clients have to self-refer.

 Clients 'matched' to appropriate counsellor.

Weekly 50 minute therapy sessions for up to one year.

 Women only centre.

 ADVOCACY: Monday – Friday, 10am-6pm. Information for survivors contemplating reporting to the police and support for women and girls who have reported to the police and are going through the criminal justice system, up to and including the trial. Emotional and practical unbiased information and support to aid client's recovery.

 GROUP THERAPY: Weekly therapeutic groups for female survivors who have completed face-to-face therapy. Closed group for 6 months.

 TRAINING: In-house accredited training (OCN) on the effects of rape and childhood sexual abuse (12 week accredited course) plus counsellor training in sexual violence (8 week accredited course).

 EXTERNAL TRAINING: On demand. Awareness training given to other professionals on the myths around rape and childhood sexual abuse, the effects of sexual violence and the optimum support methods for survivors. Workshops in schools/colleges raising awareness and building self-esteem. Workshops can include women's self-defence classes with the London Centre for Personal Safety. Working in partnership with the Met Police GAGV programme in schools from year 6 to 10 about the dangers for girls belonging to a gang.

 OUTREACH PROGRAMME: Working with women involved in prostitution, homeless women and girls, hard to reach communities and ethnic minorities, with the aim of helping women to access support services. Emotional and practical support. FGM Awareness raising and support for survivors.

 RESEARCH: Ongoing research based on anonymised client information.