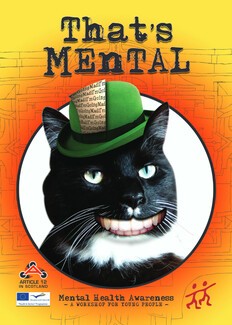 That's Mental is the work of a group of 4 young people, from different parts of Scotland, who with the support of Article 12 wanted to produce a training pack about mental ill-health that would be relevant to young people.
That's Mental has been designed as a peer education resource for 16 - 25 year-old's, but equally it can be used by community development and other support workers.
Its key aims are:
• To provide a space for open discussion regarding issues of mental and emotional well-being, in an informal and supportive atmosphere
• To provide basic information on terms and conditions • To give an understanding of what constitutes a mental health 'problem'
• To give an understanding of the relationship between stress, anxiety and mental ill-health
• To give an understanding of the relationship between a positive lifestyle and mental/emotional well-being.
For many participants this will be their first opportunity to discuss issues of mental ill-health in a group setting. For this reason, the workshop seeks to cover as broad a range of topics as possible, while trying to maintain an emphasis on positive lifestyles. The format is such that areas of interest specific to each group can, and should, be explored. We hope you find That's Mental useful.