'Unique' Gypsy Maker art project goes from strength to strength
17 July 2019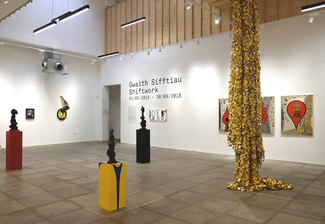 Romani Cultural and Arts Company publishes five year report on its innovative project that promotes and supports Gypsy, Roma and Traveller artists
The Wales based Romani Cultural and Arts Company (RCAC), founded by CEO Isaac Blake, began the Gypsy Maker project in 2014 because of a lack of support and recognition for Gypsy, Roma and Traveller (GRT) artists throughout the UK.
Gypsy Maker, with the support of Arts Council Wales, has over the past five years created a platform for GRT artists to develop their artistic practice over a defined period of time culminating in a presentation of works in an appropriate form (exhibition, performance, publication etc).
The main objective of Gypsy Maker continues to be to facilitate the development of innovative works by established and emerging GRT artists in order to stimulate dialogue across communities about GRT lives and the ways in which art continues to inform our all lives today. Through this work the project employs artistic excellence and experimentation to challenge racism and discrimination.
The idea was developed after two very successful RCAC commissioned exhibitions that took place in 2012 and 2013 during Gypsy, Roma and Traveller history month by Delaine Le Bas and Daniel Baker.
Gypsy Maker has presented three editions since its inception in 2014 with a fourth edition in process for 2020. Gypsy Maker 1 commissioned exhibitions of new artwork from the Romani artist Daniel Baker and the Scottish Gypsy Traveller artist Shamus McPhee. Gypsy Maker 2 commissioned exhibitions of new artwork from the Roma artist Artur Conka and the Romani artist Billy Kerry. Gypsy Maker 3 acted as a retrospective in presenting a group show of selected works created by the four Gypsy Maker artists during their original commissions plus newly commissioned works to provide a glimpse of the professional and artistic development of these artists since their original commission thereby exhibiting the impact of Gypsy Maker upon their work and their lives. This group exhibition, titled Shiftwork was curated in collaboration with Anthony Shapland, Creative Director of g39.
Three of the artists from the Gypsy Maker programme are now appearing at The International Art Exhibition at the Venice Biennale 2019. Daniel Baker has curated FUTUROMA which exhibits the work of Billy Kerry and Dan Turner (one of the artists from the upcoming Gypsy Maker 4), as well as Delaine Le Bas, a pre-Gypsy Maker artist commissioned by the RCAC in 2012. This exhibition is due to transfer to the renowned contemporary art space Villa Romana in 2020 exhibiting the wide vision and reach of the Gypsy Maker programme and its impact upon international contemporary art and social discourse.
(Photograph: Gypsy Maker 4: Shiftwork at Ty Pawb Wrexham)
---