Delaine Le Bas – 'a strange and interesting journey'
27 October 2017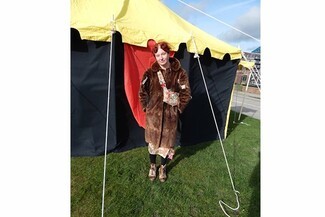 The Travellers' Times talks to professional artist Delaine Le Bas
Delaine Le Bas is a graduate of the influential Saint Martin's School of Art, and a Traveller and anti-racism campaigner. The Travellers' Times caught up with her at the Tetley Art Gallery in Leeds earlier this year where she was helping to launch the Leeds GATE 'Feet on the Ground' project with a performance artwork and installation called 'On the Reservation'. Delaine told us about her "strange and interesting journey" to becoming an important and recognised professional artist.
 "It's been a strange and interesting journey. I was really interested in fashion and clothing, that's why I went to art school, but I ended up being an artist, although clothing and costuming is also part of what I do as well," says Delaine.
The eldest daughter out of five brothers and sisters, Delaine was the one that liked going to school.
"I actually liked going to school which was difficult because I am the only one out of five of us that finished school. And then I had ideas about going to Art College." says Delaine. It was at art school that Delaine met her husband – also a Traveller – an event that Delaine describes as akin to "winning the lottery."
Delaine says her art is about identity and politics. "Feminism is in there as well," she says. "It's also about racism and the different forms that takes, how complex it is, and about where different people stand in society. It's all wrapped up together and very often a lot of what I am doing has got all of those themes in it."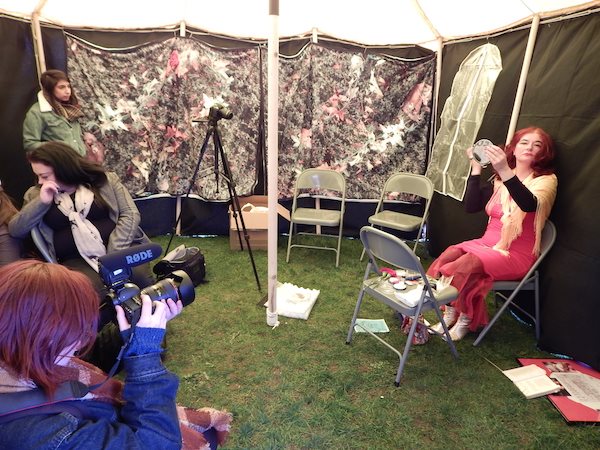 (Picture caption: Delaine Le Bas performs 'On the Reservation' © Mike Doherty)
The theme of racism and identity is palpable in the short piece of performance art she performs in her pavilion tent outside the Tetley Gallery. During the performance, Delaine puts on her artificial 'face' - using thick stage make up - with which she then has to confront the outside world with her true identity hidden.
"I got to be honest, until I started school I was completely sheltered from how racist people can be," says Delaine.
"When I started school that's when it started. It was hard and it wasn't only the other kids it was the teachers as well and it didn't stop. So I had to be quite determined when I went in and I was just going to get on with it. I don't agree with any form of racism because I feel that it has a massive impact on people and I think some people find it really difficult to cope with it and some never get over it."
Delaine has a message to all young Gypsies and Travellers who want to become artists or work in other professions like "academics, political stuff, art, and music."
"I think sometimes you have to know that you can jump in and you can swim and it will be alright," says Delaine.
"Put yourself forward – we need more people," she laughs.
This article first appeared in the May edition of the free twice yearly Travellers' Times Magazine. To subscribe to future editions please call us on 01432 344 039 or email travellerstimes@ruralmedia.co.uk
---