Down to a fine art: exploring, Gypsy, Roma and Traveller arts and their implications for wider society
23 July 2015
Down to a fine art: exploring, Gypsy, Roma and Traveller arts and their implications for wider society
By LUCY MURTAGH
National event in Wales seeks to help put Gypsy, Roma and Traveller art on the map
"People expect our art to be invisible and I want to redress that" – Shamus McPhee
Gypsies, Roma and Travellers have no homeland – but probably outnumber Irish, Austrians, Serbs and Swedes
Romani Cultural & Arts Company wants to "celebrate rich culture that Gypsies, Roma and Travellers should quite rightly be proud of"
Artists speak of "critical mass of intelligence" within the Gypsy Traveller community that remains largely untapped
GYPSIES, Roma and Travellers are a nation with no homeland, despite the fact that these communities have been here for centuries and outnumber many other ethnic groups such as the Irish, Serbs, Austrians and Swedes. So argues Dr Ethel Brooks, Professor of Women's and Gender Studies and Sociology at Rutgers University, New Jersey, and a Tate-TrAIN Transnational Fellow at the University of the Arts, London. Brooks is also a Romani-American, and part of an increasingly vocal movement calling for greater global recognition of Gypsy, Roma and Traveller arts.
On 7th July this year, The National Symposium for Gypsy, Roma and Traveller Arts and Culture took place in Cardiff, Wales. The event was organised and coordinated by Isaac Blake, Director of The Romani Cultural and Arts Company, and hosted by Chris Brown at contemporary arts space G39 in Cardiff. Alongside Brooks, the symposium included artists Dr Daniel Baker and Shamus McPhee, and other guest speakers Dr Ethel Brooks, activist Roseanna McPhee, and Nick Capaldi, Chief Executive of the Arts Council of Wales.
The primary objective of the event was to stimulate positive discussion between speakers and the audience, in order to explore the value and meaning of Gypsy, Roma, Traveller arts and their implications for wider society. All of the speakers were themselves from Gypsy, Roma, Traveller communities, along with many others in the audience.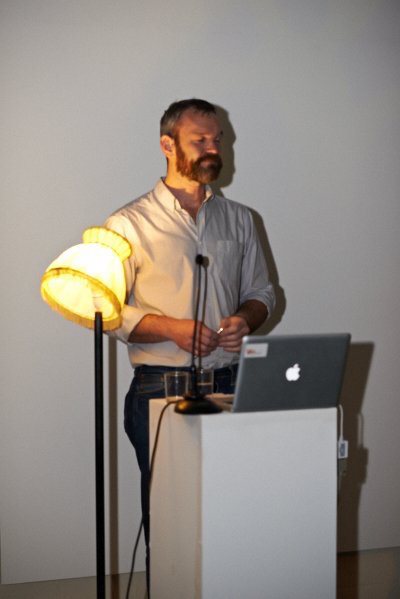 "It fits in with our mission to stop racism by challenging ignorance and increasing opportunities for professionals, says Blake. The community [can] come together and discuss concerns and themes and celebrate the rich culture that Gypsies, Roma and Travellers should quite rightly be very proud of," he said.
The Romani Cultural and Arts Company's conference schedule has previously tended to be policy driven, but this year Isaac wanted to expand and develop new themes to include the arts.
"A lot of the focus in the UK can be on accommodation, and rightly so. However there hasn't been a focus on arts and culture on an international level, so I certainly think the event has put Gypsy, Roma, Traveller artists living and working in the UK on the map."
The annual symposium took place in the context of the on-going success of The Gypsy Maker Project – a new Romani Arts and Arts Council of Wales project that will see established and emerging Gypsy and Traveller artists develop innovative works while engaging the Gypsy, Traveller community and wider public in an on-going dialogue about their inspiration and cultural perspectives.
Keynote speaker Nick Capaldi talked about living in a 'fractured society' and a 'small minded world' where we understand little about the people who surround us, which in turn prevents sustainability in living harmoniously. He views art and culture as tools to explore and address these issues by allowing us to articulate a common humanity, something which connects us all.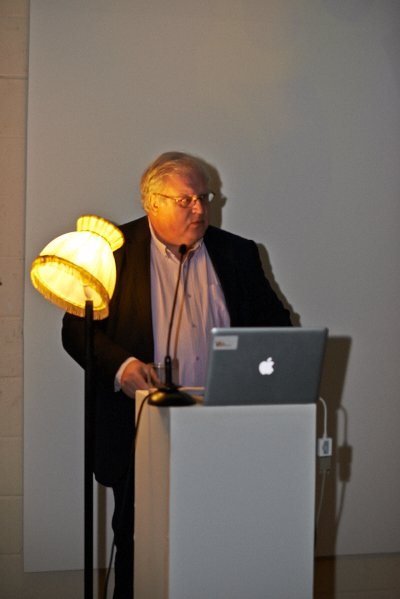 "The arts help us to express what's distinctive and singular, but also what unites and binds us together," said Capaldi., "Artists invite us to look, think and learn. To engage in culture is to open the hearts and minds to deeper understanding," he added.
Dr Daniel Baker is the established artist for the pilot year of The Gypsy Maker Project (2014-15). Baker discussed the way in which such communities are marginalised to the outskirts of society, partly due to their long-standing traditions and detachment from the written word as a dominant form of communication and expression.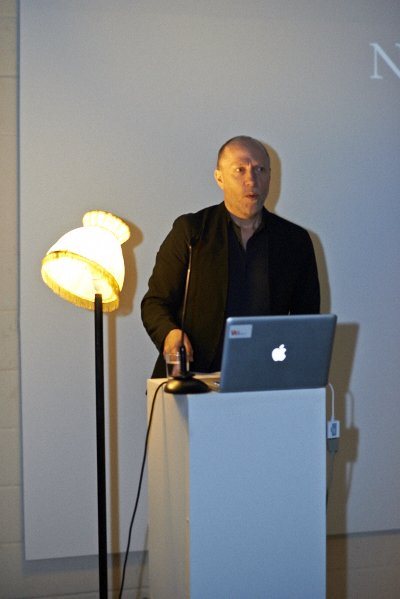 Baker is an English Romany artist, curator and theorist, and holds a PhD on the subject of Gypsy aesthetics from the Royal College of Art, London. "I think art can act as a very inclusive access point for many members of society; Roma, non-Roma, educated, uneducated," he said. I think it's something that people respond to and can get a lot from."
In terms of putting GRT arts and culture on the map, Baker underlined the importance of the event taking place at a recognised arts venue. "G39 is a very well respected contemporary arts space," he said. "It brings Roma issues across disciplines, whereas perhaps previously this kind of event would have taken place in a more ethnographic site where the art is considered kind of secondary to the social and cultural narratives," said Baker.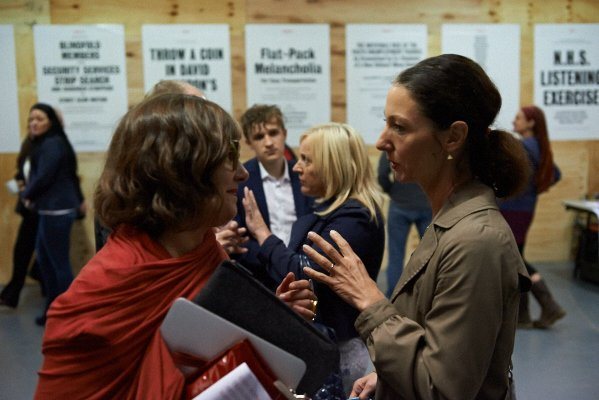 Dr Ethel Brooks voiced the need for Roma Art to be recognised and integrated into 'mainstream' arts and exhibitions, and that these arts should be a true representation of the culture from its own community members – not a depiction produced by an 'outsider'. This reflected a remark Baker had made earlier that morning; that symbols are self-assigned, whilst stereotypes are ascribed from the outside.
Brooks wanted to explore the issue of Gypsies, Roma and Travellers  as a nation without a homeland, and address how these peoples can reclaim a place in society by refusing to accept the 'fantasy' representation they have been assigned by outsiders. Brooks argues that the stereotypical Gypsy Traveller is a fanatical "backwash", a product of misunderstanding and prejudice. She believes that through art, performance and events like the National Symposium we may be able to rectify this by inspiring consumers to question their deeply entrenched preconceptions.
 "The idea of bringing all of us together and being able to have a collective conversation that includes people from Romany, Gypsy and Traveller communities but also politicians/policy makers and arts people, people from 'outside' (Non Gypsy, Roma, Traveller communities) – it's just such an important space because that dialogue can create a better, fuller understanding," said Ethel Brooks. "One of the ways art really reaches out to people is that it allows people to participate, so to think about participatory artistic practice also empowers and privileges ordinary people's knowledge production," she added.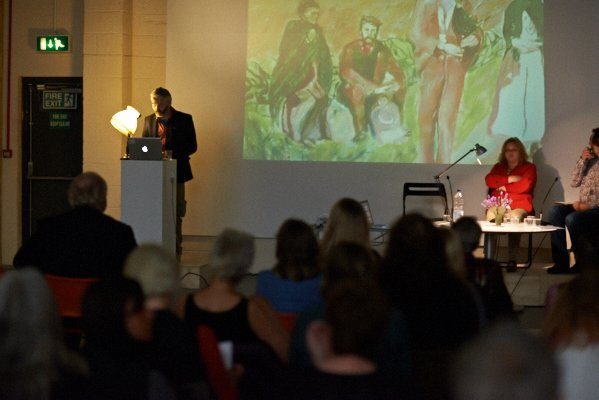 Shamus McPhee is a Nackin, or Scottish Gypsy Traveller. An emerging community based artist also involved in the Gypsy Maker Project, he is also a translator, linguist and activist, and was instrumental in bringing about the Scottish Government's 2008 decision to recognise Gypsy Travellers as a national ethnic minority.
"I suppose what inspired [me] to make representations of Gypsy art, was the fact that it's not valued enough," says McPhee. "People expect it to be invisible and I wanted to redress that, in a positive way so that people couldn't just avoid Gypsy and Traveller imagery," he said.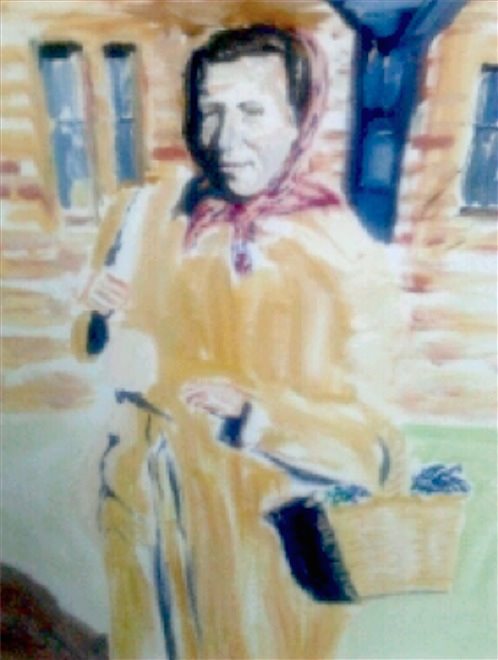 McPhee's work is a deep expression of personal experiences growing up amidst constant discrimination as a Traveller living on the Bobbin Mill site in the Scottish Highlands, where he still resides today and actively fights for the recognition of Gypsy, Roma, and Traveller ethnicity. He spoke of how an individual's lifestyle should not and does not need to be validated by anyone else: by using imagery, you can recreate and reclaim cultural identity, and encourage informed understanding. 
"I like arts because it's not written, it's a visual thing and I think sometimes visuals can speak more loudly to an onlooker, or maybe someone who doesn't want to communicate with you – who would choose not to speak to you," said McPhee. "But look at an image and you can still impact their perception without words," he said.
"I think there's a critical mass of intelligence within the Gypsy Traveller community but nobody's really tapped into it yet," said McPhee.
Roseanna McPhee, sister of Shamus, rounded off the discussion with a sobering presentation detailing life as a Gypsy Traveller woman and proud activist living in Scotland. She currently works as a voluntary advocate for her community and told the group of her recurrent struggle to find and maintain full time employment, despite being an articulate university graduate.
McPhee argued that continuing bad attitudes towards Gypsies, Roma and Travellers lie at the centre of perpetual discrimination and prejudice which restricts opportunities, and furthermore that art can be a key method to challenge these unenlightened attitudes.
She also expressed concerns that the Gypsy Traveller way of life is in danger of disappearing as the government endlessly persists to mainstream everyone with a 'one size fits all' approach. And unfortunately those who do not fit the policy criterions are marginalised against and subject to inaccessible resources and services. This is evident in the fact that many Gypsies and Travellers prefer not to declare their ethnicity because of the negative stigma and consequences that will be attached to them as an individual, which derives from a wider misunderstanding and intolerance of their culture.
Art can also allow for more nuance than other media that deal with GRT people, argues Daniel Baker. "I think through those artistic acts, whether they be performance or whether they be material objects, you can convey the more complex ideas that we're dealing with within the academic field," he said. They can be conveyed in terms of the feelings people get from them and the questions they raise to people. So I think academia and arts are mutually beneficial."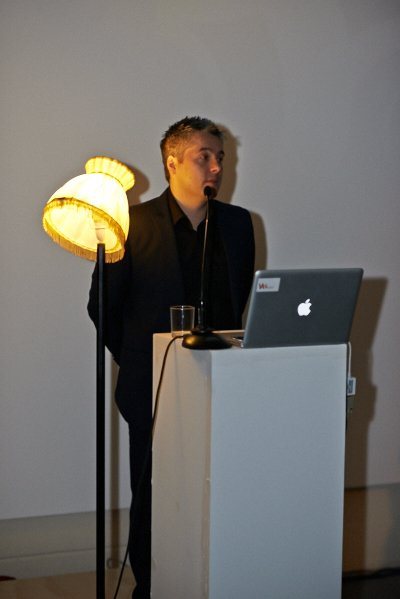 RC&AC Director Isaac Blake has high hopes for the long-term legacy of events like this. "These events inspire people to think and generate questions," he said. "It is through this thinking and questioning that people begin to reason through cultural differences and potentially get to a deeper understanding of others. 
"We are trying to engage everyone from all walks of life. We want artists from GRT backgrounds to inspire everyone into seeing the beauty of Gypsy, Roma and Traveller art and culture. We want everyone who leaves the event to start up conversations with other people about what they have learnt and seen," he said.
"It is through this ripple effect that these events can have a tremendous impact. We can ensure a constant challenge to governments, politicians, civil servants and policy makers so that pressure can be put to bear and potentially change approaches and strategies," said Blake.
Ethel Brooks also noted how rare it is to have a majority of speakers from the GRT communities at such an event. "We've got people from Romany Gypsy, Roma and Traveller communities here representing and that is so important because it doesn't happen that much," she said. "You know, we tend to be the objects or subjects of other people's discussions and work, so to actually be in this kind of space, in an arts space, where we're representing ourselves in many ways is really important."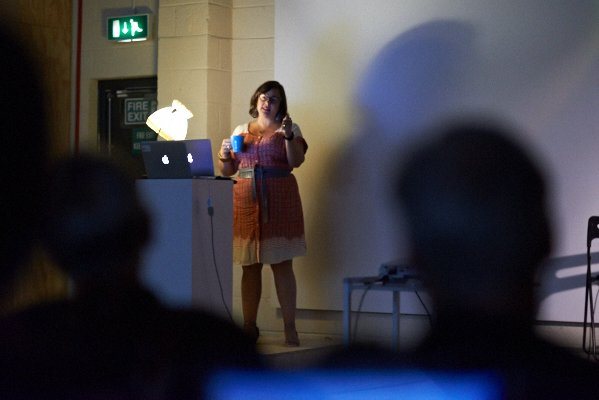 Photography by Anthony David Vaughan
---