Bank Of Free Educational Resources That Kids Can Use While Schools Are Closed
25 March 2020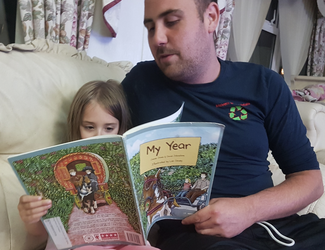 Travellers' Times have compiled a list of top online learning websites below with everything from maths to reading and comprehension skills to fun educational shows and activities. 
As the coronavirus situation continues around the world, schools across the UK are now closed to the majority of pupils and there has been no date announced by the governments as to when they might be reopened.
Most schools have set up online learning for pupils or have prepared education packs for use at home. Many Traveller families have been calling on the government and schools to incorporate long-distance and flexible learning options for years so in the long term this may present a positive change in what schools are able to offer in the future!
With social distancing measures in place and only reduced time out of the family home for essential trips or exercise, lots of children and adults will no doubt be feeling isolated over the coming months. it's really important to use the technology we have at our fingertips like WhatsApp, facetime or skype to make sure we all stay connected with friends and extended family. 
It's also relevant to mention that during this time when parents are going to be under a lot of added pressure Parents zone will continue to offer a free 24/7 crisis support service for parents across the UK. If you need support, you can text PARENTZONE on 85258
For all the parents who are suddenly now home educating, this may seem like a daunting task so we have compiled a list of top online learning websites below with everything from maths to reading and comprehension skills to fun educational shows and activities to help keep your children entertained at home,  that we will be regularly updating. We also recommend you check out this article that has loads of suggestions for  fun indoor activities.
It's important to remember though that while formal learning is important, at this time so are family activities, such as having fun and getting out of the house or trailer where it's safe and permitted to do so. On the plus it's the perfect time for us to go back to our basic roots, with school out for the foreseeable future, we now have more time to do what we do well and that's teaching our children independence and valuable life skills – so why not get them involved in daily tasks like baking, cleaning or looking after pets.
Or why not teach them a traditional trade from home or a new skill but most importantly, just keep talking tell them stories and make the most of the time you have together as a family before life returns back to normal.  
Free Educational Resources 
Younger Children
Twinkl has a parents hub with resources for children of all ages to use and has just given all parents free access to it for a month. It also has a simple guide for parents to use it.
EYFS - Early Years Foundation Stage 
EYFSHome is a totally free daily programme of organised, accessible, educational and entertaining activities, linked to the national EYFS curriculum. For children aged between 3 and five. 
Your child may have to stay inside but that doesn't mean they can't get nature savvy. With the Natural History Museum, they can become Naturenaughts, plus learn how to identify different insects, plants, and fossils.
Improve your little one's reading skills with PhonicsPlay, which is offering free access to non-members due to the Coronavirus outbreak.
With everything from songs, craft recipes, and multi-cultural teachings, Big Eyed Owl is a great resource for 5-7 year-olds. 
Waffle the Wonder Dog, Peter Rabbit and Mr Tumble are just some of the characters you can learn to paint and create with CBeebies.
A Maths Dictionary for Kids: This comprehensive archive has over 630 simplified mathematical terms along with more than 270 free printable maths posters that you can hang up around the house.
Crickweb: Conquer crosswords, sort your way through different sounds or ace anatomy with Crickweb's 250+ lessons for kids aged 4-11
Brought to you by The British Council, LearnEnglish Kids offers games, songs, stories, and activities for children aged 5-12. 
Created by a UK teacher, ICT games offers maths and English games for children in years one, two, and three.
Designed to support children aged 7-11, The Children's University of Manchester teaches history, art and design, languages, science and ancient Egypt.
Older children and young people
IXL offers personalised learning in Maths and English while covering hundreds of different skills for children in reception up to those in year 13.
Want to find learning and revision tools as well as support and advice from other students? BBC Bitesize has your child covered whether they're in primary school, secondary school, or aged 16+.
Learn how to use Microsoft Excel with Easy Excel
MUSIC
BBC's Ten Pieces encourages 7-14-year-olds to get creative with classical music and offers resources for those who are hearing impaired. 
HISTORY
The Great Fire of London Travel back to 1666 on The Great Fire of London website, which makes history fun using Minecraft maps, a video game, and an interactive timeline of events.
SCIENCE
Get Body Smart Get Body Smart is an examination of human anatomy, complete with animated text narrations and quizzes that will leave your child in awe of how the body works.
BP Educational Service
Inspire your child through the power of STEM with BP's Educational Service. Here, they'll find balloon rocket experiments and learn what happens when sugar dissolves into tea, along with a bunch of other cool experiments for ages 4-19.
Science Museum
You can always rely on the Science Museum to spark an interest in learning. And while there's nothing like being there in person, the website is packed full of creative games and activities. 
Dubbed "the ultimate GCSE biology quiz site", Love Biology is all about multiple choice with 1500 questions for kids to work their way through.
PSHE
True Tube teaches religious education; personal, social, health and economic education; and citizenship through film. The website also has a dyslexia font option for those who need it.
Kids aged 3-16 can learn about the importance of travelling safely with Think! Road Safety, including how bright clothes keep you visible, how to map a journey, and what not to do as a pedestrian or passenger.
GET CREATIVE
Could your little one be a budding writer? The Poetry Zone has been publishing children's poems since 1998 and accepts submissions all year round. 
With character quizzes, illustration tutorials, and interactive games, the BookTrust makes story time fun for the whole family. 
We may have just celebrated World Book Day back in March, but thankfully there's still lots of literature to explore online for nursery, primary school, and secondary school kids including activity packs and yummy recipes. Gruffalo cake anyone? 
Create an account to get free access to the Fuse School for lessons in maths, biology, chemistry, and physics, exploring things like pollution, climate change and magnetism.
You may never have tried soap carving or textile weaving but that doesn't mean your child can't. And thanks to Tate Kids they can access craft tutorials like this and even submit their artwork to be displayed in the online gallery.
Tracing Ace makes learning to draw easy thanks to author and illustrator Peter Reynolds. Simply print out one of the tracing sheets and your child can start practicing straight away. 
Whip out the felt tip pens and crayons because it's time to get colourful with these Crayola print outs. There are even some for adults so you can join in the fun too. 
Think your child would like to learn how to make a bird feeder? How about a snow globe? Or even binoculars? With Wildlife Watch they can do all this and more while learning about animals and the environment.
Step outside of the box with DKfindout!, which lets kids explore subjects as broad as transport, space, dinosaurs, and computer coding assisted by quizzes and videos.
BrainPop offers animated movies on topics in maths, science and English.
Tynker offers coding lesson for kids
Creative Bug offers craft lessons, from knitting to jewellery-making, drawing and origami
Travellers' Times will continue to provide fun ideas for learning options for young people of all ages and will be keeping this page regularly updated so be sure to keep checking back! 
---