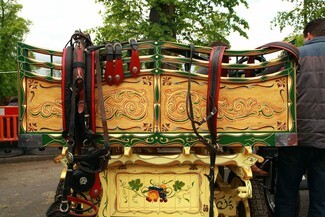 Since 2000 , Travellers' Times has been Rural Media's national Traveller-led project that enables Gypsy, Roma and Traveller people- especially younger community members - to develop and use communication and media skills to challenge discrimination, celebrate their history, culture and achievements, and play an active part in all aspects of contemporary society.      
Using a variety of rich media, TT also provides unique and valuable tools and resources for those working directly or indirectly with Gypsy and Traveller, providing greater awareness and understanding, alongside a unique line of communication A high-quality platform that makes the Travelling community heard, TT celebrates GRT culture and challenges stereotypes and negative mainstream media representation. A bi-annual print magazine and daily website , TT also delivers media skills, news-writing courses and events to train and support Gypsies and Travellers to tell their stories, educate people and advocate for their communities.
Travellers' Times is by and for Gypsy, Roma and Traveller people for all to enjoy.
The Travellers' Times website and magazine Editor is Mike Doherty, Editor at Large Damian Le Bas , YTT Editor Lisa Smith, Filmmaker Charles Newland and Project Manager Julie Colman 
Get involved by sending us your news, stories, opinions, poems and events.
Community Contributors Terms & Conditions , Editorial Policy and Community Standards apply across this website and all our social media accounts.
Travellers Times is a member of, and regulated by IPSO and you can download a copy of our editorial complaints policy and procedure here
If your compliant is not editorially related then you will need to refer to Rural Media's External Complaints Policy found here