"Another day in paradise" – At Home with the Furys out on UK Netflix this week
9 August 2023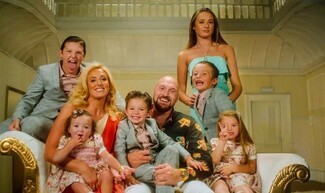 Many of us could be forgiven for thinking; 'OH NO – NOT AGAIN,' whenever a big TV broadcaster announces that it is just about to drop yet another show about Gypsies and Travellers. Our worries would increase even more to find out that the broadcaster is Netflix, the broadcaster which STILL has the show containing the comedian and self-regarding 'edge-lord' Jimmy Carr's Roma Holocaust 'joke' up among its listings. However, it may be safe to say that Netflix's new series showing the lives of Tyson and Paris Fury and family will, this time round, be different.
For a start; the retired two-time Heavy-Weight World Boxing Champion and canny multi-millionaire Tyson (and Paris one would suspect) have almost certainly obtained a heavy-weight control over what Netflix is going to actually broadcast. Secondly, from watching the trailer; it appears that Tyson and family are narrating their own lives – so no patronising Channel 4-style voice-overs to cringe and roll your eyes to in this series. And thirdly; 'the funny bits' look like they are going to be very funny - and on Tyson's own terms.
The Netflix trailer opens with Tyson Fury retiring from the ring, and within seconds we see him running along a Lancashire beach with his dog and a full dog poo bag. "I've gone from topping the bill at Wembley to picking up dog-sh*t on a run," the Gypsy King tells us, the viewers.
From the Netflix promotion blurb:
'At Home with the Furys will have exclusive access to the heavyweight champion of the world as he exits the ring and tries to embrace retirement with his extraordinary family including wife Paris, father John and his six children. Alongside changing nappies and the school run, At Home with the Furys will see Tyson constantly looking for projects to keep him busy, from a world tour to meet his fans, to lavish family holidays, encounters with other A-listers and impromptu family camping trips.'
'The series will give audiences a fly-on-the-wall view of Fury's inner life at his mansion in Morecambe, England, and his decision to focus on his family, particularly as the boxer has ebbed in and out of retirement for the last several years. Fury fans will get an inside look of what a legendary boxer's life looks like when the gloves are off: changing diapers, driving the kids to school and finding meaning outside of the ring.'
Like Tyson's title fights – we think that his Netflix series is going to be a big one. The first series has nine 30-minute episodes and a second series has already been commissioned.
At home with the Furys' to air on Netflix UK on 16th August.
TT News
(Image: Netflix)
---