'Racist and traumatic' - Traveller reactions to CH4's The Truth About Traveller Crime
17 April 2020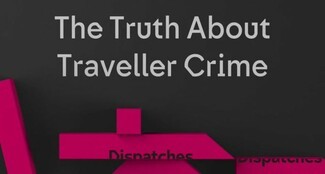 "Tonight I saw my family and my community compared to the Taliban by an MP on national TV. The director and producer Sharron Ward has done a fantastic job in inciting racial hatred in the midst of a national health crisis where many Travellers are being disproportionately impacted by COVID-19. On a Wednesday night when communities are coming together to support each other you are actively demonising mine Sharron Ward and CH4" – Lisa Smith Youth Travellers' Times Editor
Gypsies and Travellers across the UK have reacted with fury to last night's 'traumatic and vile' CH4 TV show 'The Truth about Traveller Crime' as 'racist' tweets emerged sent by producer and director Sharron Ward.
The 'vile racist tweets' sent by 'The Truth about Traveller Crime' director Sharron Ward in 2011 were uncovered by Gypsy and Traveller activists.The TT will be approaching Sharron Ward for comment.


Traveller activist Luke Smith, who helped to uncover the tweets, said he was horrified.
"We were rightly concerned when we found racist tweets from the producer using a simple twitter search" he said. "It's appalling that Channel4 didn't do these basic checks on such a sensitive issue."
Last night and Friends Families and Travellers launched a campaign to enable Gypsies, Travellers and supporters to complain direct to Channel 4 and the TV watchdog Ofcom. So far over 4,500 people have signed up through FFT to complain. This makes it the 4rd most complained about TV programme this decade. You can add your name by following the link here: FFT – Complaint to CH4 and Ofcom about 'The Truth About Traveller Crime'.
Shera Rom Billy Welch, who helps set up Appleby Horse Fair said the programme had sinister echoes in how the Nazi media spread propaganda demonizing Jewish people directly before the Holocaust.
"It is obvious that there is a definite agenda here to promote hatred and racism towards Gypsy's and Travellers," he said.
In a further development, the Traveller Movement are considering court action against CH4 after a last minute legal letter from law firm Howe & Co failed to stop 'The Truth about Traveller Crime' being broadcast.
Chair of the Traveller Movement, Irish Traveller Pauline Anderson OBE, who was "mislead" into appearing in the programme, said she was "appalled at the misuse of her interview in this sensationalist TV show."
"At a time of national crisis when broadcasters should be bringing people together, they are instead sowing division and leaving my community vulnerable to hate crime and abuse," she said.
"It's an absolute disgrace to journalism. We expect more from Channel 4."
Other Traveller campaigners also condemned the timing of the show which was broadcast during a time of national crisis due to the coronavirus epidemic.
Sadly the only press we get is negative. Gypsies and Travellers are doing their bit in this crises," said Susan Lister.
"My cousin's daughter is in the local hospital caring for the sick and dying. She is a Gypsy on the front line and no doubt there are many more putting themselves at risk."
Other Travellers' were worried about the long term effect the programme would have on the daily discrimination they face.
As a young Gypsy man from the Traveller community who struggled to find work after college due to my ethnicity, I was physically upset at what I witnessed," said Johnson Welch.
"This will surely only make things harder for me. The whole thing was inaccurate unfair and very traumatic to behold."
London Traveller campaigner Lisa Mahoney, who only last week helped to raise money for pizzas and then delivered them to her local hospital, said that Travellers would always be second class citizens and that the programme would make it even harder to get more Traveller sites developed.
"It's terrible after all are years of hard work and fighting for Travellers rights and for more sites to be built I felt so disappointed they have put this program across to people as if to say this is what will happen if we build Travellers site near settled people. They couldn't do this to any other ethnic minority, we will always be second class citizens."
Luke Smith also pointed the finger at Andrew Selous MP, who appeared in the programme and who has been accused of racism towards Travellers many times before.
"We had an ex-army conservative MP Andrew Selous responsible for discriminatory forced assimilation bills comparing us to the Taliban," said Luke Smith.
"He didn't feel the need to mention the Traveller that served in Afghanistan who was bullied to death within the British Army."
Stung by the wave of criticism and complaints about the programme, Channel 4 responded saying that Dispatches The Truth about Traveller Crime  "examined an important issue that was addressed fairly, accurately, and with due impartiality in accordance with the Ofcom Broadcasting Code."
"We stand by the journalism in this programme," added the Channel 4 spokesperson.
"Channel 4 regularly addresses uncomfortable issues and any delay in transmission would have been unfair on the contributors. The statistics were drawn from government and police sources and analysis of the association between crime levels and some Traveller sites was undertaken by highly professional people. The programme included contributions from Travellers and Traveller advocates as well as people who detailed their experiences of living near certain Traveller sites and who questioned the authorities' approach to criminality.  Other representative groups were approached but did not respond or declined to take part in the programme."
However, Scottish Traveller Professor Colin Clarke, Trustee of the Traveller Movement, called the Channel 4 response "disingenuous".
"To suggest issues were addressed 'fairly, accurately and with due impartiality' is insulting," added Professor Clarke.
"So disappointing. Because, yes, allowing an MP to be interviewed who then compares a Traveller site to 'ungoverned space' in Afghanistan and Traveller families to the Taliban is absolutely fair, accurate and impartial. Right Ofcom?"
TT News 
(This article was updated on the 27/04/2020 to include statements from Channel 4 and Professor Colin Clarke)
---