Poems from Travellers at Ford Prison
27 September 2019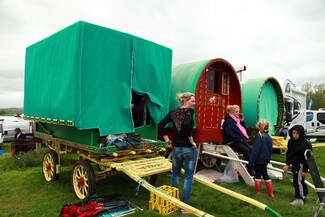 Friends Families and Travellers recently received a couple of poems from Tommy and Nathan who are prisoners at HMP Ford and asked the TT to publish them. We are proud to do so and here they are:
Thanks Tommy, Nathan and FFT.
All the best!
TT Editorial
A Romany Gypsy, by Tommy
My little story when we went picking hops in Kent
Where we travelled in our wagon, as Gypsies we went
Our colourful wagon would then stop for the day
Painted in midnight blue and yellow like hay
The horses strolled in the field all lazy and fed
Black and white beauties soon ready for bed.
Now my dad and his work was all done
My family playing in the summer's setting sun
Mum on the stove with a dinner to be made
Surrounded by oil fired lamps shining like jade
Then came the shout which we all liked to hear
"It's about time you got fed my beautiful dears"
We sang round the fire as its flames turned to embers
Those are the days my soul always remembers.
Gypsy Boy, by Nathan
A Gypsy Boy came home one day
to find his true love had gone away.
When he asked, she replied
"If you led an honest life,
I would surely be your wife,
but seeing you live a life of crime,
Gypsy Boy now do your time."
In a cell far away a Gypsy Boy rang his bell,
when they came he was dead
and he left a letter which read,
"Dig my grave, dig it deep.
Place red roses at my feet,
Place a white dove upon my chest,
to show that I died for love."
So all you girls have in mind,
that Gypsy Boy is hard to find.
So if you find one, love him true,
'cause a Gypsy Boy will surely die for you.
(Stock photo (c) Natasha Quarmby/Fields of Light)
---