Threatened new planning laws 'another nail in the coffin for Gypsy and Traveller sites'
21 September 2020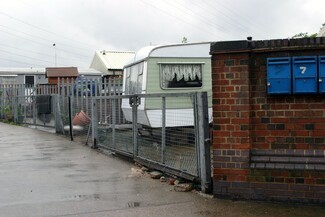 Threatened new planning laws could make life even harder for Gypsies and Travellers wanting to buy and develop their own sites, say lawyers working for Gypsy and Traveller rights.
The threatened new laws have been proposed by the Government as part of their push to 'streamline the planning system'.
The new planning laws, outlined by the Government, are set to fail permission for any developments not in a council's five-year development plan. A five year development plan is where a council sets out its planning requirements and areas for shops, housing, factories and warehouses - and a tiny area of land for Gypsies and Travellers to buy, develop and live on.
Yet research from Gypsy Traveller organisations shows that most councils in England continue to fail their Gypsy and Traveller communities by failing to have a legally required five year supply of deliverable Gypsy and Traveller pitches.
Councils are also increasingly being allowed by the Government to 'de-couple' their lack of a five year supply of Gypsy and Traveller sites from the rest of their five year plan. This means that the need for more Traveller pitches is unlikely to ever be met under the current system because the councils face no sanctions or fines for failing Gypsy and Traveller communities.
This situation often leads to Gypsies and Traveller' being forced to buy marginal 'off plan' land to live on, and then engaging in a costly planning battles with the councils and the government that can sometimes last for years.
 One proposal in Government's plans could effectively halt private Gypsy and Traveller site provision in its tracks, say lawyers.
Proposal 24 directly refers to Gypsy and Traveller unauthorised developments and states:  
'We will seek to strengthen enforcement powers and sanctions
We will review and strengthen the existing planning enforcement powers and sanctions available
to local planning authorities to ensure they support the new planning system. We will introduce
more powers to address intentional unauthorised development, consider higher fines, and look
to ways of supporting more enforcement activity.
This will include implementing our commitments from the Government's response to the
consultation on unauthorised development and encampments, to strengthen national
planning policy against intentional unauthorised development and ensure temporary stop
notices are more effective. And will also consider what more can be done in cases where the
Environment Agency's flood risk advice on planning applications is not followed.'
When contacted by the Travellers' Times, A spokesperson from the Government provided the following information:
Planning Policy for Traveller Sites is clear that in producing their local plan, authorities should identify and update annually, a supply of specific and deliverable sites sufficient to provide five years' worth of sites against their locally set targets. We reminded local authorities of their duty to plan for transit sites as well as the need for joint-working between local authorities in a Written Ministerial Statement in February 2019. 
On 6 August the Government launched the Planning for the Future consultation on potential reforms to streamline and modernise the planning system. We welcome views as to how the accommodation needs of gypsies and travellers can most effectively be provided for within the new system.
The Travellers' Times understands that Traveller Law experts Community Law Partnership and the charity Friends Families and Travellers will be responding to the Government planning consultation to raise their concerns.
TT News
(Main photograph: (c) Elisabeth Blanchett)
---