Henry-James - Martial Arts Champion
7 June 2017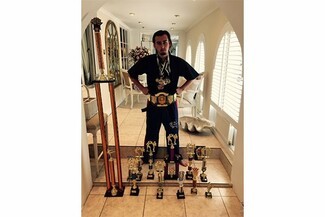 Romany Gypsy Henry-James Thomas is a mixed martial arts champion who is currently taking the World United Martial Arts (W.U.M.A) scene by storm.
At just 16 years old he has a black belt first degree in Karate and a black belt first degree in freestyle Kickboxing. And to top it off, he has just qualified for the World championships and will be representing Great Britain as part of the GB Team in the W.U.M.A world championships.
When asked how he felt about representing Great Britain Henry-James told The Travellers' Times that it was an "honour to be part of the sport and represent my country and people."
On the 23rd April at Perdiswell Leisure Centre in Worcester, Henry-James was on top form coming first in all three categories and taking the title at the Battle of England awarded with the belt he is wearing and three trophies.
The first category was Japanese Kata a martial arts form that develops the learner's ability to execute techniques and movements with the goal to internalize the movements and techniques of a kata so they can be executed and adapted under different circumstances, without thought or hesitation.
The second category was contact fighting in which Henry-James defeated a 31 year old ex-W.U.M.A European champion. He went on to explain that there are no age or weight categories for the 16 and overs and added, "My first competitive fight a 14 was against an 18 year old British W.U.M.A champion".
The third category was creative weapons: "You can choose any weapon including swords or sticks and you develop your own routine this category is non-contact it is more to show your expertise of handling a weapon" says Henry-Jams. "My favourite weapons to work with are nun-chucks after I watched Bruce Lee Enter the Dragon and decided to teach myself how to use it wasn't without a few hits to myself though!"
This weapon is formally known as the nunchaku; a traditional Okinawan martial arts weapon consisting of two sticks connected at one end by a short chain or rope.
It is clear that Henry-James is a focused and determined competitor, he started the sport at 5 years old with the full support of his Dad, who said he was "over the moon" about his son's success.
"He recently qualified for the world championships in Wolverhampton and is now part of the British squad I am over the moon and love watching him compete," said Henry James's dad.
Henry-James says he knew even when he first started the sport he wanted to be World champion and is inspired by the technique of Bruce Lee and Alfie Lewis.
"I studied Bruce Lee and Alfie Lewis who inspired me to take up freestyle kickboxing to all the Gypsy boys out there don't let no one put you down if you put your mind to it I  believe you can achieve anything".
Henry-James trains at Oxfordshire Freestyle Martial Arts Association in Witney with his Sensei, Steve Symonds, who is two times world champion. Henry-James said "he has taught me lots of good moves that I use in competitions". He also stated he had experienced no racism towards him in the sport for his ethnicity and said, "I am very proud of being a Gypsy and representing my people, the sport is respectful of you are and I would recommend it."
Henry-James plans to open his own dojo explaining a 'dojo 'is the Japanese word for martial arts club which has already roused much interest in the local community.
Young Times wishes Henry-James the best of luck at the world championships.
---