'Lady Gypsy' video investigated by advertising watchdog
27 September 2016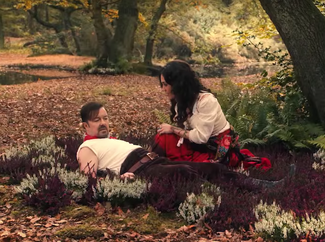 The Traveller's Times can reveal that the advertising watchdog is "investigating" a complaint from a Gypsy woman about the controversial 'Lady Gypsy' video, which was released last month to promote Ricky Gervais's new film 'David Brent: Life On the Road'.
The complaint, sent to the Advertising Standards Authority by Romany Gypsy campaigner Sherrie Smith, claims that the advert is "racist, denigratory and portrayed Romany Gypsies, particularly female Romany Gypsies, in a negatively stereotypical way," and is therefore "offensive".
Sherrie Smith said the video encouraged "ridicule" of Romany Gypsies.
"The outfit Ricky Gervais's 'David Brent' character is wearing in the three minute video is blatant ridicule; a neckerchief, belted trousers with a close up lingering shot of the work boots he's wearing," she said.
"The "Lady Gypsy" is adorned in an ankle length long flowing skirt, with a shawl and is a racist and sexist stereotype, she added.
"The lyrics are even more disturbing; "She was a Traveller BUT she was pretty and clean". So it goes on and she lays him down on a bed of heather offering free sex but selling the heather for a pound. Is it worse that she is immoral or that she's motivated by money?"
The Traveller's Times understands that the decision on the complaint is yet to be made, but that the Advertising Standards Authority council has already met and decided that 'Lady Gypsy' was an advert - and therefore within their remit – and not a film trailer, in which case it would have been regulated by the British Board of Film Classification.
Even though the film has now shown, The Travellers' Times understands that the Advertising Standards Authority has to powers to ban an advert in retrospect – an action that would send out a strong message to the advertising and PR industry.
 In September 2012, the Advertising Standards Authority ruled that two of Channel 4's infamous 'Bigger, Fatter, Gypsier' advertising billboards for the TV series "Big Fat Gypsy Weddings" were "offensive" and" irresponsible" and likely to enforce prejudice. Two of the billboards were banned.
The complaint follows action by Gypsy and Traveller campaigners at their local cinemas.
The Travellers Times was contacted by Matty Mitchell, a Gypsy man from Brighton, who complained to the Brighton Odeon out about the 'Lady Gypsy' advert which was being shown repeatedly before screenings of other films.
Matty says that he ended up being called by a "Commercial Director for Odeon" who reassured him and agreed that 'Lady Gypsy' was offensive to Gypsies and women - and  that the Brighton Odeon had removed it "ahead of schedule" because of his complaint. 
The Travellers' Times contacted Odeon Cinemas and spoke to them, but they failed to provide a comment.
The Advertising Standards Authority decision is expected soon.
---