We're all stronger when we stand together – why we're joining forces to launch the #StopTravellerHate campaign
20 November 2020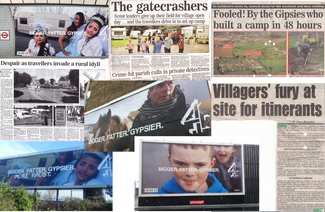 This week Stop Funding Hate and the Traveller Movement joined forces to launch a new Crowdfunder campaign, #StopTravellerHate.
One of the main purposes of Travellers Times is to challenge negative media. We want to bust myths about damaging stereo types and provide an alternative positive point of view. That's why we are getting right behind this new campaign and hope you can too. Read all about the campaign aims below
We want to train a network of activists to fight back against anti-Traveller hate – both in our media and in public life.
Stop Funding Hate is a people-powered campaign which encourages companies to stop advertising with media that fuel hatred towards minority groups.
We believe that the best way to challenge hate is for people across society to unite and oppose all forms of discrimination – and that includes racism towards Gypsies, Roma and Travellers.
Big advertisers know that aligning with racist content can seriously damage their brand. And we've seen that when enough of us speak out, the companies we shop with will respond.
In the past two years there's been a marked drop in anti-migrant and anti-Muslim front pages in the UK press – and #StopFundingHate supporters have been credited with helping to bring about this change.
 But there are still many ongoing issues.
 Across the UK, editors continue to publish hateful stories demonising Travellers. Channel 4's toxic "Truth About Traveller Crime" show has caused particular concern this year. It's shocking that anti-Traveller racism has become so normalised within our media that even a channel which promotes itself as being "against hate" would broadcast such a divisive and inflammatory programme.
Following a joint action by Stop Funding Hate and the Traveller Movement, a string of brands pulled their advertising from the online version of Channel 4's toxic show. Now we want to build on this by scaling up our campaign.
The #StopTravellerHate project will also tackle anti-Traveller hate in politics, developing the work that the Traveller Movement have been doing to challenge hateful rhetoric from MPs and councillors.
Too often politicians use Gypsies, Roma and Travellers as political footballs to score points with their constituents. Part of the funds we raise will support political and media literacy training for young Traveller activists to help them challenge, and change, the sensationalist narrative that some politicians continue to reinforce.
There's a long way still to go - but Stop Funding Hate has already had a far bigger impact than we expected when we launched in 2016. We've seen that when people from across society stand together and oppose all forms of hate, real change is possible.
Every pledge to our Crowdfunder will help to build this work, and show the strength of public support. Together we can #StopTravellerHate.
Richard Wilson / Stop Funding Hate
---