Early Learning Part 1: Supporting healthy Brain development
5 March 2018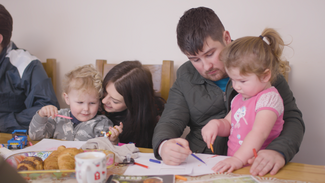 Lisa Smith is a Global Leader for Young Children at the World Forum Foundation. As part of her early childhood advocacy project she ran a series of workshops in the heart of her local community. With the aim of equipping young Romani and Traveller parents and carers with knowledge of the science behind early childhood development.
Did you know……...
…the galaxy has 100 billion stars and a human brain has 100 billion brain cells... a human brain is the most complex and profound object in the universe...........writes Lisa. 
This was just one of the many interesting  facts we learnt  using the Science of Early Childhood Development Toolkit. We decided we wanted to take you on our journey with us and will be publishing a series of short story's over the coming months looking at brain development, nurturing care, play, language and literacy and positive guidance.  
This week we looked at how our brains make us unique, how they control our personalities, emotions, language, attention memory and how we learn, behave and interpret information. Just take a look at all the different parts of the brain and what they are each responsible for. If you want to explore this in more depth you can visit  Ask a biologist. 
 
We discovered how in the first three to four years of a child's life their vision, hearing, emotional control, language and other brain functions brain are developing and how what they need to be supported by adults.
Check out the What can you do? section below to see the small, everyday things we discovered we could do - and were already doing - that make a big difference to babies and children's growth, learning and development. 
We also explored lots of research that showed us how the early years of a child's life even before birth was absolutely critical to the formation of a healthy brain. Check out this short video to learn more. 
After our workshop we asked participants one thing they had found most surprising. Montanna, Mum of two said, 
" I was surprised baby's could learn before they were born and were learning about the world around them even in our bellies, but then of course it makes sense that we sing and talk to our unborn children".
Nursery can provide children with lots of extra opportunities to support healthy brain development. Did you know that all 3 and 4 year olds in England can get free early years education? and if your child  is 2 years old they could be eligible for up to for 15 hours a week early years education in a nursery near you? To find out more and to check the structures if you live in Northern Ireland, Scotland or Wales visit Gov.uk
---