The Boshamengro – The Gypsy Fiddle Player by Raine Geoghegan
27 January 2021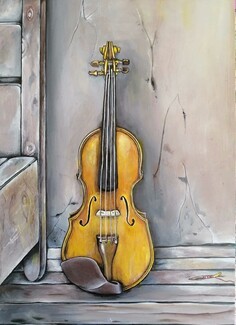 (Birkenau concentration camp 1944 – im of Bill Lane)
Hand crafted from spruce and maple,
the fingerboard of black ebony
was once finely polished.
The Gypsy would tuck the fiddle under his chin,
pick up the bow and play,
stamping on the ground.
He kept it with him as long as he could.
He noticed scratches, dents,
but he held it close, like his own child.
On a cold dark morning
he is ordered to get up,
and follow the line.
With little time,
he draws himself up,
takes the fiddle in its old black case,
places it against the wall, whispers,
   'Parruka tute me freno'
As he joins the line, he remembers when he was a boy,
taking the fiddle from his father's hands,
his heart plucking fast,
as – it – is - now.
Parruka tute me freno – thank you my friend.
By Raine Geoghegan
Artwork by Christine Ford,  Facebook address : Romanyart@pukeruabayNewZealand
Raine Geoghegan is a poet, prose writer and playwright of Romany, Welsh and Irish descent. She is a Forward Prize, Pushcart Prize and
Best of the Net nominee. Her debut pamphlet, 'Apple Water: Povel Panni' was previewed at the Ledbury Poetry Festival in 2018. It was also 
a Poetry Society spring 2019 Selection. 'They Lit fires: Lenti Hatch O Yog' was published in 2019. Both pamphlets are published by Hedgehog
Poetry Press. Her work has been published in print, online and in anthologies. Her play 'The Tree Woman' was performed online for the worldwide 
Earthquake Festival in October 2020. Her creative essay entitled 'It's Hopping time' is to be published in an anthology on Nature with Hodder and 
Stoughton in July 2021 and her first full collection will be published with a major publisher Salmon Poetry Press in March 2022. Her website is:
rainegeoghegan.co.uk - she can also be found on Twitter, Instagram and Facebook.
---