Book review: Leaves in a Holocaust Wind
2 August 2019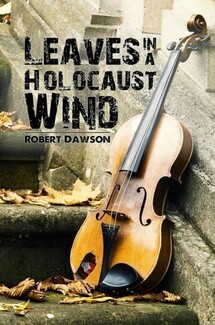 Bob Lovell reviews Robert Dawson's novel set during the Romani Holocaust in World War Two. "Nai bista – don't forget, Tell people about this book," writes Bob Lovell
The title would instantly make most readers think of the Jewish Holocaust during World War Two .But  you would be wrong in this , this book is abwhich isout The Roma , Romani, the Gypsies of Europe,  who were also slaughtered by the Nazi during World War Two, which  sadly  is  not well known about  even these 75 years since The Nazi were  brought to a standstill  by the Allied Forces .
For those of us Romani who had and have families in the United Kingdom,  it is known that if the Nazi  had managed to invade the British Isles as planned,  all UK Romani Gypsies and family names were known to the Nazi.  God forbade if this had of happened, it's likely I would not exist to write this review. An important reminder to all our Romani Gypsy people today  worldwide;  as terrible  it may seem to be reminded of what happened in WW2, it could happen again as we watch the  White Supremacist Movement  which is very much alive today .  
Shom Rovloben -  I am crying.
This book is based on fictional characters but woven from true accounts by Romani who witnessed these terrible times at the hands of Nazi monsters.
The two main characters, Foxy a young man and Zuzzi a young woman, draw the reader in as they escape while their family are murdered and then each of them surviving alone until they meet up and join forces knowing that their Romani background and culture will be their survival tool. 
Bob Bruv (Robert Dawson is called Bob Bruv to all Rom who know him) has written this book as if for younger readers, but not so he has written it as a Say (a Say in Romani culture and life is a story that is oral based and passed down through generations; most often by the artchintan yog or camp fire).
The reader will find themselves hoping and praying that these two young Romani, Foxy & Zuzzi, are not captured after they escape the Nazi and live in constant fear of being recaptured.   They find themselves living the old Romani way by knowing nature's medicines, by knowing which foods they can pick and eat, plus the animal life around them.
Woven into the story line is Bavalengro, the horse, who is almost spiritual to these young Romani;   this is so true of Romani culture where Rom and the horse are like brothers or sisters.
I smiled when a cat comes into the story, understanding that cats and other animals that lick themselves are considered Unclean by Romani, and most often are avoided, but the terrible situation of these two young Romani people hiding from recapture by the Nazi tells us something important about Romani people. This is that in times of extreme conditions and survival, cleanliness laws must be put aside in the belief that love and kindness overcomes all, as indeed it does in real life and in this story.
My advice to readers is hold on to the message of love and kindness to all humans and creatures   while reading of the factual treatment of Romani Gypsies at the hands of Hitler and the Nazi, which is the strongest point of the whole story and indeed the message Bob Bruv is giving us.
READ THE BOOK PLEASE
Nai bista – don't forget, tell people about this book .
Leaves in a Holocaust Wind published 2017 @ Austin Maccauley Publishers Ltd TM Canary Wharf London EIS 5L
The book is easy in reading, the printing is clear, and a good font size for those of us who are elderly readers.
Book available from: bob@robertdawson.co.uk  Bob Dawson will be pleased to sign copies.
Review by Bob Lovell
---