'The police aren't using it' – Drive 2 Survive probe new anti-Traveller law at Appleby
27 June 2023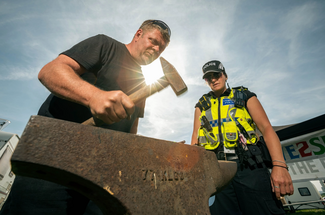 Drive 2 Survive, a GRT-lead campaign group set up by Jake Bowers and Sherrie Smith, headed to Appleby fair 2023 to talk to Gypsies and Travellers about how the new anti-Travelling law that was brought in last summer was affecting their lives.
Romany film-maker Ruby Smith was there to record the event:
Drive 2 Survive also took a blacksmith's forge to Fair Hill to get as many people as possible to forge out the mane and tail for a horse sculpture. Gypsy and Traveller community members and members of Cumbria Fire Service and Cumbria Police all contributed to the sculpture.
The Travellers' Times understands that Drive 2 Survive are currently using freedom of information laws to find out exactly which police forces are using the new law - and which police forces aren't. The results of these legal requests for information will soon be made public, so watch this space.
Drive 2 Survive/TT News
(Lead photograph - Jake Bowers and his forge at Appleby Fair)
---