Legend Pole carves a place for Gypsy and Traveller heritage in Dorset
2 August 2022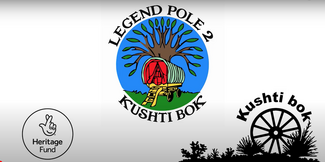 A chainsaw carved Legend Pole has been unveiled by Kushti Bok in Dorset to ensure that Gypsies and Travellers are made more visible.
The new Legend Pole, made by wood carver Gary Orange, has been erected in the beautiful Garden Area of the Kingston Maurward College grounds, with a new plaque using capital 'G' and 'T' for 'Gypsies and Travellers'.
The unveiling party was a huge success, with over one hundred Gypsies and Travellers in attendance. Music was provided by duo Tom and Jean Orchard, who entertained guests with a selection of songs, tunes and step dances
Notable attendees included former Chaplain to the Gypsies and Travellers, Reverend Roger Redding MBE, the Chair of Kushti Bok, Betty Smith Billington, Chaplain to Gypsies, Travellers and Showmen, Reverend Jonathan Herbert and Romany filmmaker, Jake Bowers.
Watch this video of the creation and unveiling of the legend pole produced by Romani journalist and film-maker Jake Bowers.
The original Legend Pole, also by Gary Orange, was carved with Gypsy, Roma & Traveller motifs in 2004. The pole provided not only a focal point for gatherings, but also a memorial to those who have died on the road.
The Pole was at first sited near the main house. It was moved into the Animal Park during the change of principal and other Kingston Maurward staff, who did not know the importance of the Legend Pole. This worked well initially, until some staff changes were made. The decision was then made to have the protective wire netting removed, and to house more animals in the enclosure. When the current principal, Luke Rake, was made aware of the situation he was keen to put this right.
"We were always the forgotten people, says Betty Billington-Smith, Chair of Kushti Bok. "We were the forgotten people of the Holocaust and we make sure that we are no longer forgotten.
With funding from the National Lottery Heritage Fund, Kushti Bok have worked closely with the college and Dorset History Centre to create a new pole that will stand on the college grounds for many years to come. Kushti Bok will use a range of engagement events around the Legend Pole project, such as traditional craft and family history workshops to strengthen existing friendships and partnerships. They will use the pole to hold community events both physically and virtually to increase connection and engagement within the Dorset Gypsy and Traveller communities.
Betty Smith Billington said, "This is a brilliant opportunity for all Dorset residents to become more aware of the beautiful culture and heritage of the Travelling communities".
This project is an opportunity to collect stories and memories and share them with Dorset based repositories, so they can continue to reflect Gypsy & Traveller culture and heritage. The Legend Pole project is also an opportunity to increase involvement in Kushti Bok, gaining new supporters and committee members, and mapping a path towards further fundraising.
TT News/Kushti-Bok Press Release
---