Grass-roots Traveller-led charity set to tackle mental health and suicide
23 March 2022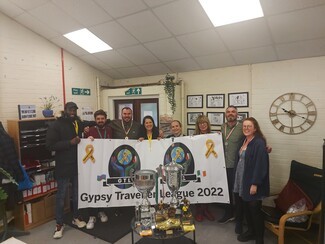 A brand new Traveller-led charity is set to tackle mental health among the Gypsy and Traveller communities and is kicking off its campaign with a seven-aside football and pool competition in the south and south east of England.
The Gypsy and Traveller League (GTL), led by Travellers, but which includes non-Travellers and a Catholic Priest as the treasurer, has already been busy by starting a website, a Facebook group and has been visiting charities, including the Traveller Movement and Bell Farm Christian Centre, to get support for their ambitious project.
The GTL are also holding a 'launch event' on Friday, 1st of April during a Medjugorje Mass at Our Lady of the Visitation Church, Greenford, 7.30pm. The address for the church is 358 Greenford Road, Greenford, West London, UB6 9AN, and all are welcome to come and find out more, say the GTL organisers.
"We have a Team who just have started an organisation called "GTL" for Gypsies and Travellers who are dealing with mental health & suicide in are community," say the organisers of the Mass. "Please don't miss out on this opportunity to meet these lovely young people."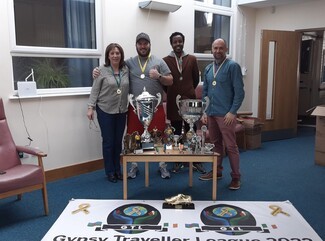 Speaking to the Travellers' Times, GTL organiser John Reilly said that he hoped that the competitions would bring members of the Travelling community together in their love of sport and would also push the message "Changing Your Mindset" to improve your own mental health and to support your friends and family's mental health. He added that one of the motivations of the GTL organisers was to tackle the "terrible" rate of suicide among young Gypsies and Travellers. The GTL would also be including sports and activities for young Gypsy and Traveller women in the future once the football league and pool competition had kicked off, said John Reilly.
The football and pool competitions are open to 18 years and older.
Looking to the future, the GTL charity would also provide employment training and courses, such as paving and beauty care, and become far more than just about sport said John Reilly.
"At the moment we are mainly Travellers," said John Reilly. "But we are reaching out to the Romany Gypsy community to come and get involved as well. This is about improving the mental health and well-being of all our communities."
The Travellers' Times will be popping along to the Mass on April 1st to find out more.
The GTL football league will be seven-aside and several teams have already signed up. Slots on the pool competition are also filling up. The organisers are keen to hear from more teams who may want to join in.
To find out more please go to the GTL website by clicking on this link HERE: Gypsytravellerleaugue or by joining their Facebook Group here: (20+) Gypsy Traveller League | Facebook or direct by email and telephone at gypsytravellerleague@gmail.com / 07424249595
Mike Doherty for TT News
(Main picture: GTL visit the Traveller Movement office to get support for their sports and mental health project. Left to Right: Jamal (GTL), Greg (TM), John (GTL), Jenni, Sabrina, Maureen (all TM), Tony (GTL), and Anna (TM))
If you are affected by poor mental health talk to your friends and family and/or call The Samaritans in confidence.
"Whatever you're going through, a Samaritan will face it with you. We're here 24 hours a day, 365 days a year."
---