2021 World Roma Congress Exhibition moves on to Berlin
12 October 2021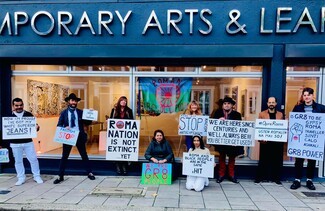 The first World Roma Congress took place in South London 50 years ago. The first congress was a milestone of the Romani movement and a truly creative gathering. Arts and Culture have been a strong inspiration for the political movement of Romani people and continue to play an essential role as a form of civic expression as well as a strategy of emancipation.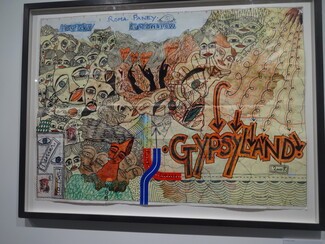 From September 27th until the 3rd October, 2021, the World Roma Congress Exhibition was shown at 198 Contemporary Arts and Learning Gallery in Brixton, London. This truly international exhibition was curated by Moritz Pankok and Beverley Carpenter. They showed art from Romani across Europe. London based GRT artists such as Robert Czibi presented collages alongside many high-profile artists, including Delaine Le Bas, who has shown in the Venice Biennale, and Ceija Stojka (1933-2013), a painter, activist, writer and survivor of three concentration camps.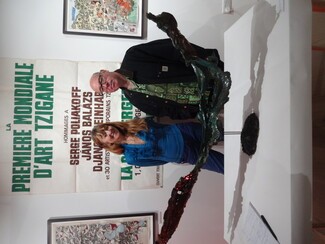 The opening event was well attended, and was marked by the arrival of Virgil Bitu with the iconic Roma Congress gold case, containing papers from the 1st World Congress. On Friday the 1st of October a seminar event allowed for discussion of Roma Art and Activism. Additional material was added to the exhibition to include a range of Roma activist banners. The link with historic and wider human rights struggles brought us to the current point in time, with Drive2Survive events taking place against the Police Bill in Parliament Square, Appleby and Manchester (at the Conservative Party Conference).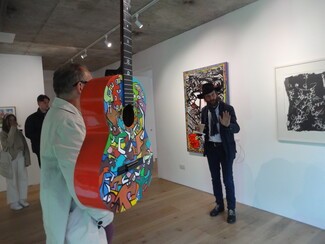 Visitors were able to discover works that have previously been unseen in the UK, meet the curators and artists and hear the extraordinary stories of Romani artists who have shaped UK and EU history.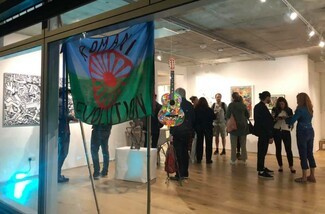 The exhibition will now move to Berlin in October 2021 and is hosted by Oblique Arts, UK and Foundation Kai Dikhas, Berlin. Here new commissioned artworks will be included that can be seen at: www.worldromacongressart.com.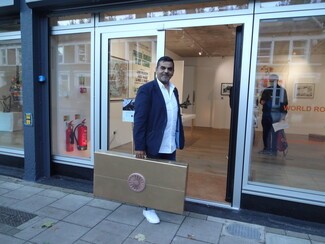 Exhibition:
Foundation Kai Dikhas, Berlin
22nd October - 27th November 2021
Opening event 21st October 2021 at 7pm
Online:
TT News/World Roma Congress press release
---