Digital exhibition about the genocide of the Sinti and the Roma accompanied by stories from Central and Eastern Europe
14 August 2018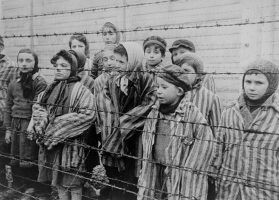 The digital exhibition on Romasinti.eu about the genocide of the Sinti and the Roma during the Second World War is accompanied by special stories from Hungary, Croatia and Romania.
The forgotten genocide exhibition tells the story of the persecuted Sinti and Roma children with the use of unique source materials.  Together these diverse stories illustrate the events which occurred during that period. Very little is known about the genocide of the Sinti and the Roma during the Nazi regime. The persecution remained unmentioned until long after the war, even in the Sinti and Roma communities themselves.  Hundreds and thousands of Sinti and Roma died, more than half of whom were under the age of 14. The digital exhibition gives an impression of this dark chapter in European history with the use of stories about children from different European countries. 
Forgotten stories
The three new contributions tell the stories of the Hungarian Józef Forgács, the Romanian Maria Stancu-Costea and the Croatian Stjepan Mavrović. Józef Forgács managed to survive the concentration camp he ended up in aged nine, and returned on foot to Zalaegerszeg, the town where he was born. He never found out exactly in which camp complex he had been imprisoned. Maria Stancu-Costea managed to survive the deportation to Transnistria with the help of her aunts. Up to her death she never succeeded in having her deportation officially acknowledged. Stjepan Mavrović did not survive the war. Just like the other 5,608 Croatian Roma children he was probably murdered and buried in one of the many mass graves.
Cooperation
The digital exhibition has existed since 2012 and is available in English, Dutch, German, Polish, Czech, Hungarian, Croatian and Romanian. This multilingual exhibition was developed together with institutions and researchers from  various different countries. The forgotten genocide is a product of the National Committee for 4 and 5 May with the support of the International Holocaust Remembrance Alliance (IHRA), Stiftung "Erinnerung, Verantwortung und Zukunft" (EVZ) and the Anne Frank Foundation.
---