GATEHerts deliver hugely successful Hate Crime conference to a packed house
4 July 2018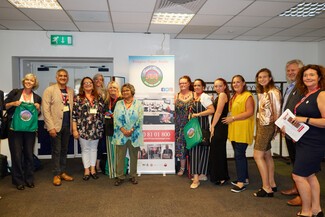 'Recognise, Report, Resolve – Gypsy, Roma, Traveller Hate Crime' was top of the agenda on at the Gypsy and Traveller Empowerment Hertfordshire Hate Crime conference, held at the Resource Centre for London on June 20th.    
More than 120 people attended the sell-out conference, chaired by LeedsGATE CEO Helen Jones,  and a wide range of participants included police, education providers, health services representatives, Gypsy and Traveller community members and the wider general public; who were treated to key note speakers, presentations, panel discussions with Gypsy Roma and Traveller Activists, workshops and a screening of a documentary on Gypsy and Traveller History and Culture – Searching for the Travelling People.   
Mike Ainsworth from Stop Hate UK gave a keynote on Hate Crime statistics and their impact on marginalised communities but Gerry McDonald Chief Inspector, Hertfordshire Constabulary, who manages 24 hour policing for East Herts District; was due to deliver a full keynote presentation, however, after hearing the findings of a new report - Recognise, Report, Resolve hatred against Gypsy, Roma and Traveller communities, based on findings from the Report Racism GRT website – established in 2016 by Goldsmiths student Sherrie Smith and Gypsy and Traveller Empowerment Hertfordshire (GATE Herts) founder Josie O'Driscoll – at a parliamentary launch the night before said " I was personally invited by GateHerts, It's a real privilege to be here and represent the police. You know I had a presentation planned before I came here but I didn't feel I could go ahead with it today after hearing the evidence from the report and speaking to people. Am I ashamed?  Yes. Are we doing enough? No"
 "In 1996, because I think of my Irish sounding second name I was asked to go undercover. I was sent over to meet a sergeant when we met he said hello and asked me to wait outside the office and I heard him say to one of his officers "I asked you to get me a Pikey not a Paki" for the first time in a very long time that thought comes back to me today"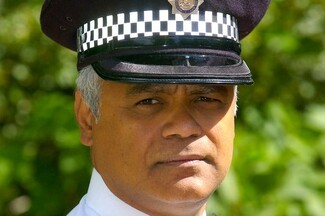 The conference followed the launch of a new Goldsmiths, University of London report, commissioned by GATE Herts, which sheds light on bullying of Gypsy, Roma and Traveller children in schools and presented to Parliament the previous evening,
David Woodger and Dr Naomi Thompson Goldsmiths University of London presented 'Recognise, Report Resolve' Key findings from the hate crime report and said "Hate crime is a systematic issue and should not be the problem of Gypsy Roma and Traveller people themselves to fix. At the moment communities are being pathologized and blamed themselves for the Government's inadequacy to deal with this issue. We need better mapping of hate crime incidents and a multi-level approach that challenges institutional structures and conferences just like todays working together with people in positions of influence and power"
Sherrie Smith, Goldsmiths student and GATE Herts Project Manager said: "This report reveals the nature and scope of hate and discrimination against people from Gypsy, Roma and Traveller communities, and will hopefully make people sit up and take notice. GRT communities have shown that antigypsyism, discrimination and hate speech will no longer be tolerated – enough is enough. The climate is already changing with people coming forward to report incidents to us, I just hope this research encourages more people to do the same."
Community participant 24 year old Betsy Mobey Campaigns and Youth Engagement Worker at London Gypsy and Travellers told the Travellers Times  "I came to network, learn new things and get some tools to fight hate crime and prejudice. The LGBT hate crime workshop led by Irish Traveller Mark Donahue was inspirational we need to demand that our voices are heard."
For further information visit www.gateherts.org.uk.
To report a racist incident or hate crime visit www.reportracismgrt.com.
---