Roma Holocaust banner exhibition to be launched at Report Racism conference
24 May 2018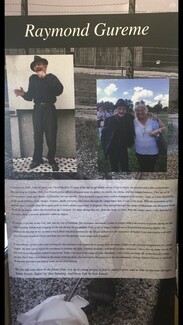 A banner exhibition commemorating the Roma and Sinti victims of the Holocaust will be launched at the Report Racism GRT hate crime conference in London on June 20th.
The exhibition will be available to view from 9am on the day of the conference which will held be at The Resource Centre, 356 Holloway Rd, London N7 6PA.
The exhibition was designed by GATE Herts to deliver the message about Roma genocide memorial. It consists of nine pop-up vinyl banners. The exhibition is available for use – please contact sherrie@GATEHerts@gmail.com.
The banner pictured features 93 year old Roma Holocaust survivor Raymond Gureme.
A spokesperson for GATE Herts said: "He inspires our youth."
"We, the old ones have lit the flame. Now it is up to young people to feed it, make it grow, and so that we become stronger. Young people, stand up! Stay standing, and never fall to your knees!" (Raymond Gureme)
The details for the hate crime conference on the 20th June can be found by clicking this link.
By GATE Herts
---