The Ciambra – a feature film about a southern Italian Romani family to be shown in UK cinemas in June
30 April 2018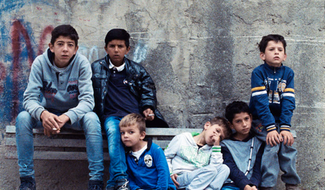 The Ciambra, directed by Jonas Carpignano and executive produced by Martin Scorsese, is a gritty penetrating story of adolescence to adulthood set in Southern Italy featuring Romani actors and extras – and will be coming to UK cinemas this June!
 In The Ciambra, a small Romani community in Calabria, Pio Amato is desperate to grow up fast. At 14, he drinks, smokes and is one of the few to easily slide between the regions' factions - the local mafias, the African immigrants and his fellow Romani.  Pio follows his older brother Cosimo everywhere, learning the necessary skills for life on the streets of their hometown. When Cosimo disappears and things start to go wrong, Pio sets out to prove he's ready to step into his big brother's shoes and in the process he must decide if he is truly ready to become a man.
 Filmed with participants from the local Romani community, centering around the Amato Family, The Ciambra immerses you in a world rarely seen on screen with a high level of emotions and energy captured by a unique cinematic language.  Like a fable set against the texture of a documentary, the story is a fictional narrative set in the actual world of the actors, all nonprofessionals, who are playing versions of themselves.
The Ciambra is executive produced by Martin Scorsese and shows some of his influence in its depiction of crime as a family business and its attention to masculine codes of loyalty, violence and respect. During the editing of the film, Scorsese gave notes on several versions of the cut and Jonas acknowledges his thoughts made an impact on the final film.
Writer/director Jonas Carpignano spent his childhood between Rome and New York City. He began making films at Wesleyan University and after graduating continued working on film sets in Italy and the US. He was assistant director on several films, including fellow student Benh Zeitlein's Beasts of the Southern Wild (2012). His work as a director has been shown around the world and has won awards at Cannes, Venice, and Sundance. His first feature film Mediterranea debuted at the Cannes Film Festival's Critics week before receiving the award for the best directorial debut of 2015 by the National Board of Review. Jonas has been living Gioia Tauro (Calabria) for almost eight years while working on his shorts and on Mediterranea and The Ciambra, all shot there.
Cannes Film Festival 2017 – Directors' Fortnight – Winner of Europa Cinemas Label Award
RELEASED IN UK CINEMAS 15 JUNE 2018
118 minutes / Italian with English subtitles / Cert: TBC / Released by Peccadillo Pictures.
Reviews:
"THE CIAMBRA is a compelling and accomplished film. The world is so realized I felt as if I was living alongside its characters.  A beautiful and moving picture"
Martin Scorsese
"Brilliant and disturbing...  If Bicycle Thieves were remade today, this is what it would look like."
Evening Standard
---