Law firm 'specialising in housing, the homeless and Gypsies and Travellers' wins top legal award
14 July 2017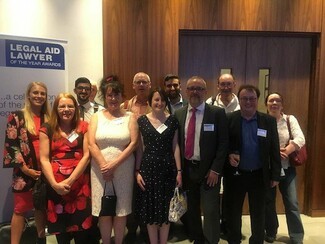 Community Law Partnership, the Birmingham based law firm that runs the free Travellers Advice Team service for Gypsies and Travellers and boaters, has won a Legal Aid Lawyer of the Year Award.
Chris Johnson, senior partner of Community Law Partnership (CLP), told the Travellers' Times that they were "delighted" to win the Legal Aid Firm/Not-for profit Agency Award at the Legal Aid Lawyer of the Year awards on the evening of 5th July 2017.
"It was wonderful to hear about the marvelous work of so many dedicated legal aid workers around the UK," he said.
"The awards are organized by the equally wonderful Legal Aid Practitioners Group."
In the citation for the award, the Legal Aid Practitioners Group said of CLP:
"Community Law Partnership is a legal aid firm to its core. It specialises in housing law for those facing possession, the homeless and Gypsies and Travellers, including cutting edge work in the higher courts. A client who collapsed when trying to represent herself says: 'I went from wanting to die to wanting to live – that's how much their help meant'".
Anna Jones, the compere for the award ceremony, referred to CLP for "their legendary commitment to Gypsies and Travellers".
Chris Johnson went on to thank all those who sent in submissions in their support, "especially some of our clients and to James Stark of Garden Court North Chambers for nominating us."
"Well done to all the winners and all those shortlisted," he added. "We were very honoured to be in such exalted company."
The Travellers' Times sent in a submission in to support CLP's nomination, telling the award organisers: "There is a saying amongst campaigners that it is always handy to know a lawyer - CLP are very handy to know".
The TT submission also stated:
"The fact that CLP recently lodged a judicial review against the Legal Aid Agency on behalf of a Gypsy client seeking to challenge discriminatory planning laws because they failed to initially get legal aid for her – got legal aid to bring the challenge and then won - typifies the kind of law firm CLP are and how tenacious they are when fighting for justice for their legal aid clients."
The law firm also made the national news when they beat Eric Pickles, the then Secretary of State for Communities and Local Government, in the High Court in a battle against his 'calling in' policy for Gypsy and Traveller sites. Mr Pickles' policy of calling in his planning inspectors decisions for Traveller sites for his own determination, was found by the High Court Judge to be "discriminatory" and he was ordered to stop using it.
CLP, representing an itinerant boater, also recently won a landmark case against the Canal and River Trust meaning that boaters can now use human rights laws when defending against evictions from their floating homes.
CLP's Travellers' Advice Team is a free legal advice telephone line for Gypsies, Travellers and boat dwellers.
---