Siamo tutti Roma! – We are all Roma!
1 August 2018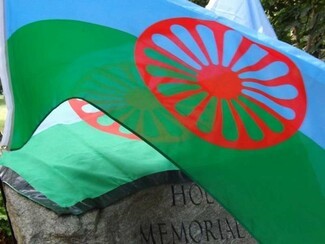 European Human Rights and Roma organizations, academics and campaigners condemn Italian Minister Matteo Salvini's proposals to racially profile Roma people and call for a Roma Pride demonstration in Rome:
Let's be clear: the call for racial profiling of the Roma people by the Minister of the Interior and leader of the League, Matteo Salvini, is not a provocation, it is the announcement of a criminal policy. Salvini and the League are not marginal "anti-system" troublemakers in the opposition, they are politicians with responsibilities, from the far right, who control the heart of the power in Italy. To not consider them as such and to not take them seriously would be a grave mistake. They are dangerous.
Consequently, we call on everyone, in Italy and all across Europe, to stand up and resist the criminal policy that they call for.
They must know that, if they attempt to put the racial profiling which they announced into effect, we would all declare ourselves Roma and we would call for all those in Italy to do the same.
Siamo tutti Roma! We are all Roma because we are all humans
In the face of racism of which Roma are the target, we declare together and in solidarity: "Siamo tutti Roma!" We are all Roma because we are all humans.
We are all Roma because when a group of people are persecuted for what they are, the entire population is threatened, and the values of freedom, justice and equality to which we are all committed are brutalized.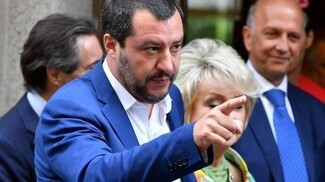 We are all Roma because we do not forget that discrimination and stigmatization have led to extermination. Contrary to Salvini and the League who call for racial profiling and a new "masspurification", we call each and every person to ensure that these persecutions, which have marked Europe with a seal of infamy and which signed the moral, political and economic ruin of Italy and Europe, do not happen again.
We are all Roma because, to us, life is the supreme value at a time when Salvini and the League want, in full lucidity thus with full responsibility, to let thousands of endangered individuals die in the Mediterranean.
The call for violence against the Roma in Italy echoes the rise of violence against them everywhere on the continent
 The call for violence against the Roma in Italy echoes the rise of violence against them everywhere on the continent: racist murder and destruction of their homes with axes by militias in Ukraine, targeted suspension of rights and brutal evictions in Czech Republic, discriminations and threats in Hungary, hate speech and pursuit of the destruction of slums in many Western European countries,…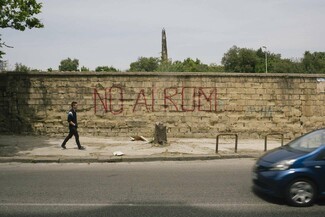 Every year since 2011, all across Europe on the first Sunday of October we gather for the "Roma Pride", for the respect of freedom, equality and dignity of the Roma and of all people in Europe.
This year, it is logical that it is in Italy, in Rome, a few hundred meters away from Salvini's office that we call for a large European demonstration for the Roma Pride, this October.
Let the racists of the League know that they will not be able to attempt to implement their criminal policies with impunity, and that they hear from their palaces the popular clamor which, in its diversity, does not allow it to happen, does not get impressed, does not give in to selfishness and fear and fights, by all democratic means, to ensure respect for human rights and the Rule of law.
In dignity and in solidarity, Roma and non-Roma together
In dignity and in solidarity, Roma and non-Roma together, whatever our origins, our intellectual or political filiations or the cultures that we have made ours, will march side by side.
Against Salvini and to all the racists and anti-Semites in Europe and beyond, let's say together: "Siamo tutti Roma!"
This Call Has Been Signed By:
Benjamin Abtan, President of European Grassroots Antiracist Movement – EGAM, Coordinator of the Elie Wiesel Network of parliamentarians of Europe, Graziano Halilozic, President of Roma Onlus (Italy), Angela Scalzo & Alberto Sera, Secretary General and President of SOS Razzismo (Italy), Jeno Setet, Spokesperson of the 'We Belong to Here' Roma Community Network (Hungary), Saska Jovanovic, President of Romni Onlu & Rowni-Roma Women Network (Italy), Marian Mandache, Executive Director of Romani Criss, (Romania), Toni Deragna, President of Consulta Roma e Sinti (Italy), Miroslav Broz Spokesman of Konexe (Czech Republic), Daniela De Rentiis, President of the Romani European Academy of Art (Italy), Deyan Kolev & Teodora Krumova, Leaders of the Roma Amalipe Center for Interethnic dialogue and tolerance (Bulgaria), Alexian Santino Spinelli, University Professor (Italy), Giulia Spinelli, THEM Romano Onlus (Italy), Simone Treis, Chairman of Rom e.V (Germany), Anetta Kahane, Director of the Amadeu Antonio Foundation (Germany), Gennaro Spinelli, Association FutuRom (Italy), Alain Daumas, President of the French Union of Gypsy Associations - UFAT (France), Benjamin Stora, Historian and Intellectual (France),  Marco Brazzoduro & Anna Pizzo, Leaders of the Association of Citizenship and Minorities (Italy), Gabi Florica Muntean, Leaders of Pavee Point (Ireland), Mario Mazic, Director of Youth Initiative for Human Rights (Croatia), Nicolae Radita, Chairman of the Roma National Center (Moldova), Zola Kondur, President of the Roma Fund Chirikli (Ukraine), Giuseppe Casucci, National Coordinator of Migration Policies, Syndicat UIL (Italy), Joanna Talewicz–Kwiatkowska, President of the Dialog-Pheniben Foundation, Professor and researcher on Roma Holocaust (Poland), Sabina Achterbergh, Chairwoman of the Association of Sinti, Roma and Travellers (the Netherlands), Siobhan Spencer MBE, Manager of the National Federation of Gypsy Liaison Group (UK), Irfan Martez, President of the National Roma Centrum (Macedonia), Dominique Sopo, President SOS Racisme (France), Osman Balic, Leader of the Roma Standing Conference of the Roma Associations of the Citizens Skrug - the League of Roma (Serbia), Michel Judkiewicz & Ina Van Looy, Director of the Secular Jewish Community Center & Director of the Education to Citizenship Center (Belgium), Kumar Vishwanathan, President of the Roma association Living Together (Czech Republic), Ahmad Ahkim, Spokesperson of the Center of Mediation for Roma and Travelers (Belgium), Krzysztof Lozinski & Natalia Tarmas, President and Vice-President of the Committee for Defence of Democracy (Poland), Ronald Lucardie, Chairman of the Board of the European Roma Information Office - ERIO (Belgium),  Boris Raomic, President of Civic Alliance (Montenegro), Levent Sensever, Spokesperson for DurDe! (Turkey), Marc Knobel, Researcher for the Representative Council of Jewish Institutions of France – CRIF (France),  Moawia Ahmed, President of the Greek Forum for Migrants (Greece), Rune Steen, Director of the Antiracist Center (Norway), Peter Weisenbacher, Spokesperson of the Human Rights Institute (Slovakia), Oriol Lopez Badell, Director of the European Observatory on Memories (Spain), Paula Sawicka, Member of the Board of the Open Republic Association (Poland), Ursa Raukar, Actress and Political Activist, (Croatia).
(Main picture: Romani flags at the Holocaust Memorial Gardens, Hyde Park, London on August 2nd Roma Holocaust Remembrance Day © free please credit TT/Mike Doherty)
---