Romani & Traveller Activists Deliver 10 Point Action Plan to Government
23 May 2019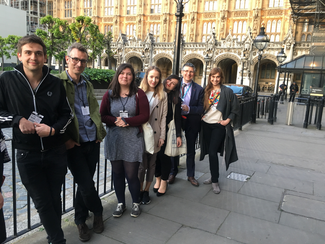 Aspiring barrister Brigitta Balogh writes about the recent conference in Parliament and the ten point action plan to Government to take into consideration
Aspiring Romani barrister, Brigitta Balogh, independently organised a Parliamentary event on 16th May 2019 to mark Romani Resistance Day, officially commemorating the Romani heroes of 1944 for the first time in the United Kingdom.  The "Press for Progress" conference was a working event intended to set out a 10 Point Action Plan to the government and ministerial bodies on how to better the lives of the Gypsy, Roma and Traveller communities in the UK. Participants had the opportunity to engage in critical discussion and create guidance for the Government on how to proceed in future when drafting policies affecting these communities.
The event was chaired by Andy Slaughter MP, who was joined in a panel by Jonathan Lee from the European Roma Rights Centre, Lisa Smith who is the Chair of the Advisory Council for the Education of Romany and other Travellers, Mihai Calin Bica, a campaigner at the Roma Support Group, and Brigitta Balogh, a Bar Professional Training Student at City University of Law.
The 10 recommendations are intended to be distributed amongst civil society organisations, and government and ministerial bodies. The attendees of the event request the government to promote and protect the rights and entitlements of these underrepresented marginalised communities, in reference to the 10 Point Action Plan set out here. In order to press for meaningful progress in the lives of Gypsies, Roma, and Travellers in this country, we recommend that ministers and policy makers:
1.  Create and fully implement a National Roma Integration Strategy and appoint a Gypsy, Roma or Traveller person as the main national contact point in the United Kingdom
2.  Reinstate the part of the Caravan Sites Act 1968 that places a statutory obligation on authorities to provide sites.
3.   Establish a funding scheme specifically targeting Gypsy, Roma and Traveller pupils in order to support both secondary and higher education students. This scheme is to be based on the methods set out by the Roma Education Fund to ensure Romani empowerment by promoting participation in professions in which Roma are underrepresented. 
4.     Reject recent policy proposals to make every form of trespass a criminal offence.
5.  Introduce a statutory definition of Gypsy and Traveller, for use in all relevant areas such as housing, planning, accommodation assessment, education and health. This will incorporate those living a nomadic way of life and those who have ceased to live in this way for purposes that include: educating children; illness; old age; and lack of pitch provision. 
6.   Introduce a definition of antigypsyism in the United Kingdom to help acknowledge and raise awareness of the discrimination faced by Gypsy, Roma and Traveller people. Discrimination includes hate speech, hate crime, cyber bullying, social exclusion and direct or indirect institutional racism. The definition is to be used in active monitoring schemes that identify and record racially motivated incidents.
7.  Simplify the EU settlement scheme to ensure it is accessible for Roma and other groups who may be lacking the necessary documentation, language and IT skills. 
8.   Establish a government obligation under the Equality Act 2010 to collect and monitor racist incidents of bullying in schools, including acts against Gypsy/Roma and Irish Travellers.
9.  Establish a Romani and Traveller Women's group as part of Parliament. This is to be based on the Council of Europe recommendation to promote Romani Women's political participation. 
10. Allocate funding and appointing a national co-ordinator to support Gypsy, Roma and Traveller History month.
The 10 Point Action Plan was drafted by participants who attend the event:
Lara Simak
Tom Hoeksma
Sioned Morgan
Natalie Ayre
The Action Plan was finalised in consultation with:
By Brigitta Balogh
---