Poetry: "I could only think of our people that fought and died"
7 November 2023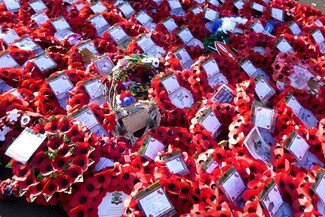 In 2011 Romany Gypsies from Romany Routes marched in the official Remembrance Day Parade at the Cenotaph in London for the first time, thanks to the sterling efforts of Janet Keet- Black. A poem by Chris Penfold Brown looks back and remembers that very first march:
Remembrance Sunday 2011 - The First Cenotaph for Romany

The Day was fine with the sun shining bright,
I was full of butterflies and my head was light,
Will ever the Gypsies be on the March one day?
Oh! yes they will, and that day is today.

When we set off my heart was full of pride,
I could only think of our people that fought and died,
Wondering what they would have said,
Thinking of the Poppy fields so green and so red.
It's a shame that so few know, the Gypsies fought,
There would have been a good many in every port,
Fighting side by side and back to back,
courage was a thing the Gypsies never lacked!

I give thanks to my friend Janet Keet-Black,
Even after refusal she never looked back,
I'll try again next year she said to me,
And then came the tickets what a sight to see.
By Chris Penfold Brown.
(Photograph: Wreaths at the Cenotaph on Remembrance Day by Ethan Doyle White - Own work, CC BY-SA 4.0, https://commons.wikimedia.org/w/index.php?curid=74402621)
---