Home is where you park it
8 March 2017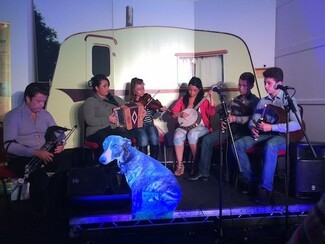 Peter Moser from More Music talks about how they worked on a project with Traveller families to create music and about their forthcoming gig with the Doyle Family in Morecombe, Lancashire.
In the summer of 2016 we wrote an album of new songs with Travellers living in and around Morecambe. The songs grew out of conversations over cups of tea and a series of outdoor sessions in a tent at the Mellishaw Lane site. They tell stories about the local characters as well as touching on issues that will be familiar to many people.
"Because your home is where you park it
Got to get used to making new friends
And they say home is where your heart is
But the hardest part, can be saying goodbye again"
The chorus of this song about moving schools was written by musician Leroy Lupton, one of the More Music musicians working on the project and from a local Traveller family. His mother, Catherine, has been taking us to visit families as she tells us stories about her life and her thoughts about living as a traveller in the modern age. For me, as a songwriter and community musician, it has been a great journey and an insight into this a unique community, its traditions and how people adapt to change. One conversation turned into this power pop ballad
"I'm sitting here on this ocean liner of a sofa
Gold swagged curtains, crystal ball chandelier
I came in through a yard where the trailers shone white
Through a beautiful wood kitchen reflecting the light
I asked the question, what's at the heart of your community
And they started to talk and this is what they said
It's the morals at the centre
And for sure they're not diluted
We're not to harm each other, stick together, whatever"
You can hear all the songs online at https://soundcloud.com/more-music-in-morecambe/sets/traveller-tales or come to hear them performed in Morecambe on March 25th. The evening at the Hothouse will bring together the musicians from the project, with local young people and showcases the brilliant Bill Lloyd from Cumbria and the Simon Doyle Family band http://www.moremusic.org.uk/events/298/travellers-tales.
It is the next stage of an adventure which also takes us into three Lancashire schools with high Traveller numbers where we will share our music and write new songs. Working for the Lancashire Music Education hub and in partnership with Eileen Mullervy from Lancashire GRT service the aim is to celebrate the community and support Traveller children in their learning and education.
"Once I was 3 years old, climbing on the rocks,
Chasing bees and picking up the flowers

Once I was 7 years old, playing Bulldog
On the camp and hoping they don't catch me
Once I was 9 years old, Boxing in the ring,
Until I hear the bell go Ding, Ding!
Once I was 11 years old, climbing up the trees,
Training puppies, giving them treats, yeh
Soon I'll be 20 years old, making my parents proud
doing what I love and making money "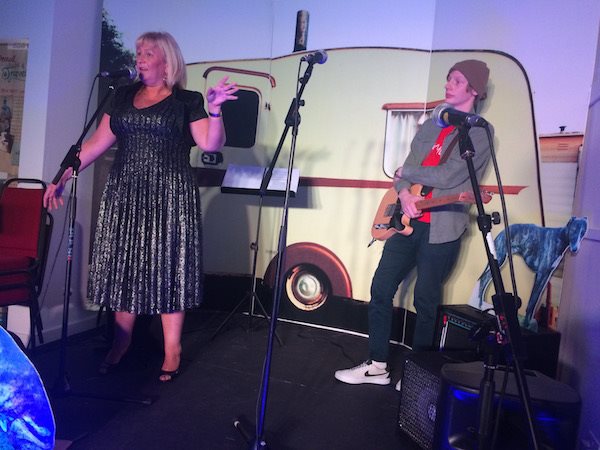 For 30 years or more I have worked as a songwriter and community activist and I love the music I can make with people that helps to tell their stories. More Music is a community music charity based in Morecambe and working across the region connecting with people to make new music and celebrate creativity and imagination!
Let's see where this new journey takes us!
---