Gordon Boswell obituary
8 September 2016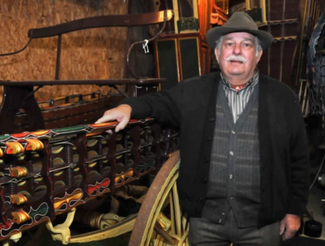 Gordon Boswell    
1940 – 2016
Sylvester Gordon Boswell and his wife Mary, were proud parents to Gordon Boswell, born in a tent at the side of a waggon, in the late summer of 1940.
Sylvester wrote the very well known 'Book of Boswell' back in the 1970's. A champion of the Romany life, his son Gordon followed in his footsteps. When his father sadly died in 1977, Gordon took over his scrap metal yard at Clay Lakes, near Spalding, in Lincolnshire.
On February 25th 1995, on what would have been Sylvester's 100th birthday, Gordon and his wife Margaret opened the Romany Museum in his memory.
The museum housed the horse drawn vehicles and considerable memorabilia that Gordon had spent a life time collecting. It also meant he could share and preserve these important examples from Romany life, with both Travellers and gorgia alike, making a visit there unforgettable.
As an ambassador for Romany people, Gordon excelled. He enjoyed meeting people and knew his subject off by heart. His talks and slide shows were delivered humbly, in down to earth, everyday language, but with the authority of one who has lived the life in all its hues.
This year, the museum was in its 15th season and is widely acknowledged as being one of the largest collections in Europe. It took the visitor on a journey back in time....from the tent time of the 1800's, through waggon time and finally into the trailer time of the 1960's.
One waggon, from the 1800's, bares Queen Victoria's coat of arms, while across the way stands an 1930's early Eccles trailer, along with his friend Henry Miller's gleaming Westmoreland Star.
But what of the man himself?  Gordon was a family man, he epitomised style and class, respect and dignity, coming as he did from one of the best known Romany families.
Political correctness wasn't his primary concern and he didn't like to be lumped together with Irish Travellers/Pavee, new age or showmen. On one visit to see him, he very seriously explained to me the social status of Romanies, then Gypsies, followed by diddicoys and mumpers.
As we both lived in the same county our paths crossed quite often, travelling to Appleby, planning Gypsy events or at the museum. He always gifted my children a few pounds when they met him, never anything but generous.
His gift for holding an audience and telling a good story were second to none. He was delighted when, for one event we arranged delivery of a barrel of 'Boswell's Bitter'.
Gordon leaves behind his wife Margaret, his three children (including Gordon Jnr) and at least ten grandchildren and four great grandchildren. He will be very sadly missed.
In answer to the question 'Will there be any Travellers in heaven?'......the answer must surely be a resounding yes!
The man with the big moustache, the Romany Rye.....will still be telling stories round the campfire.
(c) Ryalla Duffy 2016.
---