Early Learning Part 3: The power of Play
5 May 2018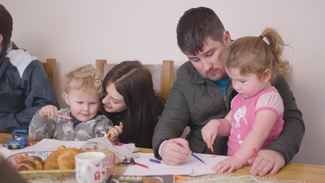 TTs Lisa Smith is a Global Leader for young Children at the World Forum Foundation. As part of her early childhood advocacy project she ran a series of workshops in the heart of her local community. With the aim to equip young Romani and Traveller parents and carers with knowledge of the science behind early childhood development.
We wanted to share our new knowledge with Travellers' Times readers and take you with us on our learning journey……..writes Lisa. 
So far, using the  Science of Early Childhood Development Toolkit we have looked at Brain development  and a positive guidance approach to supporting children. This week we are looking at the power of play! 
Some say children are 'really doing nothing' or 'wasting time' when playing implying that there is no benefit to play for children and that they are not learning when playing. This couldn't be more wrong. Play is essential for children's healthy development.
Why?- because children learn about themselves, others and the world through play. They are in charge of creating, exploring cooperating, collaborating, inventing, communicating and imagining practising vital skills for school and life!
At the start of our workshop we chatted about how much we thought play had changed since we were young and agreed that new modern technologies children were exposed to was probably the biggest difference.
We decided to look a bit deeper and found Truce (Teachers resisting unhealthy Children's Entertainment)  agreed with us that children's play has changed over time BUT they are actually getting less play time at home because they use screens TVs, tablets and mobile devices more!
They advise Its important to remember screen time is not play time because it doesn't leave much room for children's own ideas, creativity, imagination. This is because screens involve children in a virtual reality as they follow programmes created by some one else. By far not much beats playtime that involves human interactions and physical objects to play with.
We explored how when children play with materials like boxes and blocks, they are working on early science and math concepts such as counting, sorting, patterning, balance estimation and measurement. We had a go at creating our own game!
We realised that when we encourage children to scribble, paint or draw they might discover that the lines shapes and funny squiggles they've made can stand for something else an object in the real world letters or even words. 
When we support children to play make believe they are learning even more about representation how to make one thing stand for another. This is a vital early step in learning to recognise how written letters and numbers work.  
And how pretend  play improves vocabulary, comprehension and recall, Play with dolls, teddies develops imagination and logical thinking. Play with other children builds social and language skills. 
When we learn how to support children's play and promote children's learning through play we promote health, wellbeing and development in all areas. 
We caught up with Lilly,mother of one a few weeks after the workshop to see if her new knowledge on the power of play had made a difference in her life.
" I took for granted just how important play is and how clever little ones are, I use to give Ben my phone to play on when I was busy now I give him blocks or crayons and paper because I know now that his brain is trying to make sense of things, its just not passing time".
Playing with your child is not only fun, it's one of the most important ways you can nurture their development. Check out the what can I do? section below for tips or take a look at  the power of play for more information. 
Nurseries and pre-schools provide opportunities for children to explore the world through play, interact with others their own age and get them ready for school. You can find out where your nearest nursery or play school is here. 
Did you know that all 3 and 4 year olds in England can get free early years education? and if your child  is 2 years old they could be eligible for up to for 15 hours a week early years education in a nursery near you. To find out more and to check the structures if you live in Northern Ireland, Scotland or Wales visit Gov.uk.
What can you do? 
There are no rules when it comes to play. And you don't need fancy toys. In fact, you are your child's favourite toy.
Allow time for play 
Children need time to play. Its a powerful vehicle for learning and established knowledge and understanding of the world that is a foundation for life long health and well-being.  

Think about how children change in the first three years of life. 
Children  enjoy repeating actions over and over again. Ever noticed when a baby repeatedly drops something on the floor, you  pick it up they smile and drop it again. This is them using their senses around them to explore the world.  
Between the ages of 1-3 children like to pretend play and begin to interact with others
During this period of time keep children safe and guide them as they learn to share and take turns.
 
Think about child development and supporting the play of children ages 3-6 
Children 3-6 years' experience increased physical co-ordination and need lots of opportunities to move run and play with simple equipment such as balls.
They enjoy greater independence and are motivated to discover how things work. 
Pretend play increases and they use their imagination to create more complex play themes. They also begin to play simple games with rules and learn to negotiate and cooperate with others within the structures of the rules. 

Encourage and provide for different types of play 
Playing with sand, water mud and other natural materials can be soothing and gives children the chance to learn through the senses.
Rolling clay or stacking flat stones offers children the opportunity to create and engage in constructive play.
Everyday items like pots, pans and wooden spoons help children imitate what they see in their environment.
Reading and telling stories increases children's knowledge of the world and supports more complex play with others. 
Look out for part 4: Supporting language and literacy 
---