'FUTURE VOICES': THE TRAVELLER MOVEMENT ANNUAL CONFERENCE 2023
27 October 2023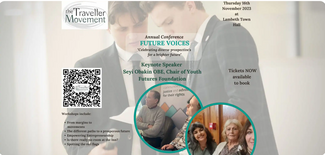 Returning to Lambeth Town Hall on 16th November 2023, The Traveller Movement annual conference 'Future Voices' will be an opportunity to discuss the different pathways to a prosperous future, spotting the red flags, empowering entrepreneurship, the margins to movements and asking the questions; Is there really no room at the inn?
The Traveller Movement's 2023 conference, 'Future Voices' will celebrate the diversity of Romani (Gypsy) Roma and Irish Traveller youth and community. While the UK is experiencing multiple interconnecting crises, this event seeks to ensure that the outcomes of our young people are not forgotten are instead championed. By creating intergenerational dialogue and focusing on opportunity and access, we can build a brighter future.
"We live in troubling times, but the issues that face our communities are not new," said Charlie Doherty, Chair of The Traveller Movement Youth Advisory Group. "The Pandemic and the cost of living crisis have exacerbated the barriers we face, but there is hope," he added.
"By coming together  at the conference we can forge a way for the future and find inspiration in the work that is being done to create a world where ethnic Romani (Gypsy), Roma and Irish Traveller people are fully recognised and respected as minority ethnic groups; are proud and confident in their cultural identity; and are able to reach their full potential. This conference will shape the steps we take going forward to building a more equitable and just world."
There are a number of barriers facing our communities. Across education, employment and politics there is a lack of access, inclusion and opportunity. The cost-of-living crisis, voter ID changes and lack of access to adequate healthcare disproportionately affects ethnic minorities. Economic struggles are simultaneously affecting, and are affected by, an unfolding mental health crisis. Community reports of deaths by suicide – particularly amongst children and young people– are increasing at an alarming rate.
The annual conference is a space for community members, to share experiences with key policy makers, advocates, motivational business leaders and inspiring young people to consider the relationship between education, opportunity, and access within GRT communities specifically. From panels to workshops, the aim of 'Future Voices' is to identify how we support and empower the next generation. During economically and politically trying times, it is easy to feel like there is no way out, but we want to draw attention to the light at the end of the tunnel. This year our conference brings together an inspirational cohort of diverse, intergenerational voices. Through a network of support, Romani (Gypsy), Roma and Irish Traveller youth can be empowered to seize new opportunities.
Traveller Movement press release/TT News
The Traveller Movement conference takes place on November 16 2023, 1000 – 1615 at Lambeth Town Hall.
The Key note speaker for this event will be Seyi Obakin OBE, CEO of Centre Point and Chair of Youth Futures Foundation
The event will be chaired by Pauline Anderson, Chair of trustees at The Traveller Movement.
To find out how to book tickets download The Traveller Movement conference brochure below:
---