Moving for Change welcomes Gypsy and Traveller members at in-person network event
10 February 2023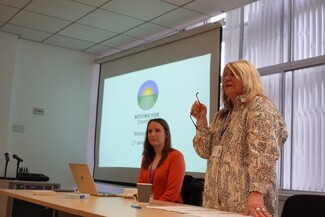 Over £400,000 has been distributed to Gypsy and Traveller projects by the charity Moving for Change, attendees at their recent conference heard.
At the conference on the 17th January, individuals, charities and organisations that work with Gypsy and Traveller communities were able to meet up and participate in workshops on, education and learning beyond a formal setting, designing and building culturally appropriate accommodation, and mental health and suicide prevention.
Moving for Change (MfC) supports and collaborates with their network members to decide the direction and focus of their work, and what work they commission for the year to come.
The event was introduced by the CEO of GATE Herts and MfC member, Josie O'Driscoll, followed by a summary of MfC achievements from 2019 to date by Programme Manager, Kari Griffiths. MfC have commissioned over £400,000 in projects, which are made up of six single year projects, and five multiyear projects, said Kari Griffiths. In addition, MfC has provided professional mentorships, and sixteen Gypsy Roma Traveller History Month projects. Across the commissioned projects, the key themes are Gypsy and Traveller education and empowerment, GT legislation and amplifying GT voices. The MfC projects aimed to target at individual level, community level and regional level; spanning across Wales, Scotland and England. It was acknowledged by Kari Griffiths, that an aim for MfC for the future, is to expand their services to Northern Ireland and other areas of Wales.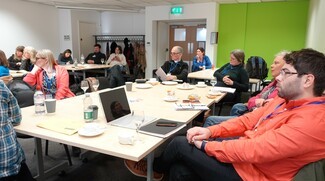 Following the summary of achievements, the network members were invited to participate in one of three seminars; "Culturally Appropriate Site Design" by Darren Ward, "Mental Health and Suicide Support" by Claire Rice and Margaret Greenfields, and "Non-Formal Education" by Eilidh Mcleod and Chantelle Watson. After the seminars had finished, the network members came together to share and discuss the outcomes of each seminar.
The "culturally appropriate site design" seminar, led by MfC member, Darren Ward, explored how understanding Gypsy and Traveller cultures and identities can help build meaningful environments. The seminar aimed to prompt collaborative thinking to help design solutions for the accommodation crisis that Gypsies and Travellers' face. The outcomes of the seminar stated a need to engage with the problems seen in current site design, a need for a national remit to challenge planning policies, and to create a best practice guide for site design created by Gypsy and Traveller communities.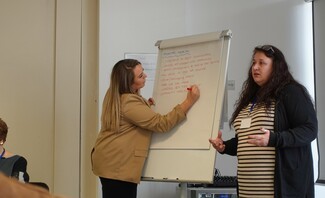 Claire Rice, Project Manager of GATE Herts, and Margaret Greenfields, Professor of Social Policy, Anglia Ruskin University, led the "mental health and suicide prevention" seminar. The seminar explored the effects of poor metal health within Gypsy and Traveller communities, how it can be talked about and the action needed to tackle poor mental health and suicide. When discussing the outcomes of the seminar, Claire Rice said that there is an issue of confidence for the communities to converse and engage in these topics. One outcome suggested that mental health services needs to improve conversations and provide skills training for care workers, health officers and advocates, in order to better understand and support Gypsy and Traveller people. Another outcome, was the need for a community forum/messaging board where case workers and advocates can share key tips and information about mental health services and advice, said Claire.
Eilidh Mcleod and Chantelle Watson from Article 12, led the seminar on "non-formal education." Article 12, provides bespoke services for youth in Scotland, including Gypsy and Traveller youth, for access to formal and non-formal learning and development opportunities. In the seminar, Eilidh discussed the progress of an Article 12 project, "Young Gypsy/Travellers' Lives: Education at the Roadside," funded by Moving for Change. This project provides educational services and resources for nomadic families based in North East Scotland and the Scottish Highlands. On the MfC website, it says that upon meeting the project aims, "Article 12 will have produced a model that can be used for other hard-to-reach communities across the UK." It was made clear from the seminar discussion that a similar model is essential for Gypsy and Traveller Youth in England, Wales and Northern Ireland.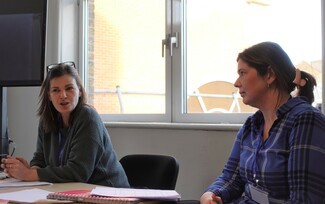 Chantelle Watson spoke of her lived experience of formal and non-formal education, how she left mainstream education to receive non-formal education through a project called "Universal Connections," funded by South Lanarkshire Council. By Chantelle's account, she said the project started roughly 20 years ago, where a liaison officer worked with the youth centres in the local area to provide a Traveller only education service. The seminar group agreed, this segregated approach to non-formal education highlights accessibility issues and a lack of representation in educational services across the UK. Outcomes of the seminar showed a need for non-formal education to be more accessible for Gypsy and Traveller communities in England, Wales and Northern Ireland. Plus, in formal education there needs to be more representation and inclusion of Gypsy and Traveller heritage and culture in the curriculum.
This network event, led by Moving for Change, saw community members discussing the way forward with exciting ideas emerging that aim to support and improve the lives of Gypsies and Travellers' in the UK.
Dr Lynne Tammi-Connelly (Network, Commissioning and Tendering Lead for MfC) said:
"Thank you to all of you who managed to make it along to the first in-person network event. We were delighted that over 50% of network membership signed up to attend and equally delighted with the networking and good conversations that took place on the day."
If you would like to find out more on how to join the Moving for Change network, click here.
By Liza Mortimer/TT News
(lead photo, Kari Griffiths (left) and Josie O'Driscoll (right) © Liza Mortimer)
---