Traveller Pride launch ground breaking helpline for LGBT+ Travellers
18 September 2023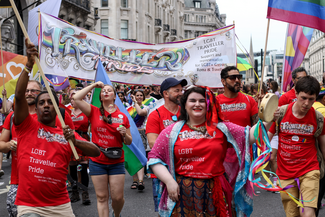 On Monday 18th September, Traveller Pride launch the first UK helpline for LGBT+ Traveller people to speak to a fully qualified mental health practitioner. The helpline which will be open on Monday evenings (from 5pm - 8:30pm) will provide a space for LGBT+ Travellers' to seek informal and confidential advice or information or to open a door to speaking to someone else who has similar lived experience.
The new helpline will improve access for LGBT+ Traveller people across the UK who wish to access the service and to draw on the organisations' unique resources.
Traveller Pride is a grassroots, volunteer-led collective that works to promote inclusive spaces for Travellers in LGBT+ spaces and LGBT+ people in Traveller spaces. The helpline is the first of its kind to offer a listening ear or practical support to people over the age of 16 who, as individuals who experience double discrimination are marginalised in multiple ways.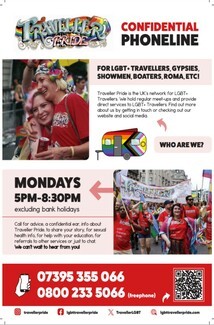 Speaking on the launch of the phone helpline, Tyler Hatwell, Director of Traveller Pride and Psychotherapist said: 
"This is something we have been wanting to do since we launched, we're thrilled to bring it to life. LGBT+ Travellers can often feel isolated and like they won't be understood, accepted or held; I hope this is a space where those concerns aren't there and they can bring and be themselves."             
Isolation is a killer and for LGBT+ Travellers, Traveller Pride, works to create enough spaces of contact so that this minority within a minority doesn't feel so alone. 
Monday 18th September marks one year since the death by suicide of George Ward, better known as Ru Paul's Drag Race's Cherry Valentine, who appeared alongside Traveller Pride in his BBC documentary "Gypsy, Queen & Proud".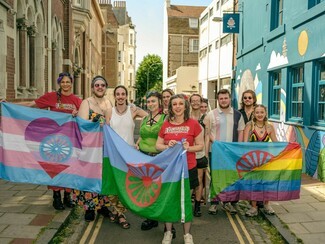 "George was a mental health nurse outside of being Cherry and was so enthusiastic about the helpline idea." added Tyler, "Launching the helpline on the anniversary of George's passing away means a lot. It means a lot to be able to do this on this day. Traveller Pride wouldn't be in a position to do this without the platform what George gave us and I'm so proud of the impact he had, I believe he'd be proud too."
The helpline service is available on Monday evenings from 5-8:30pm. If you are a LGBT+ Traveller you can call normally or on Whatsapp on 07395 355 066 or (freephone) 0800 233 5066. 
If you are a LGBT+ Traveller or work with this community and want to learn more about Traveller Pride's events and regular meetups visit the website at https://www.lgbttravellerpride.com/
Traveller Pride Press Release
(Lead photograph: Traveller Pride at London Pride 2019 by Joseph Mitchell wwww.josephmitchell.org)
---