"For the Travelling people" – Jess Smith collects BEM award
16 August 2023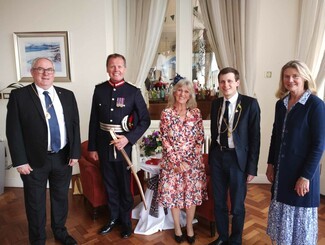 Author and Scottish Traveller campaigner Jess Smith has collected her British Empire Medal for services to the Scottish Traveller community, which was awarded by King Charles in his first New Years Honours list back in January.
"It was a huge surprise when I found out, so for the Travelling people, I accepted it," said Jess Smith, the author of six books about the Scottish Traveller community.
Jess Smith was given her award by Stephen Leckie, Lord-lieutenant of Perth and Kinross at Criell Hydro on July 24th.
The award was a "positive step" for all Scottish Travellers said Jess Smith. "It made me realise that when society recognizes the culture it brings a closer understanding, and for the future, an opening of doors," she added.
Jess Smith's first book The Way of the Wanderers came about after a death-bed promise she made to herself in 1982 as her father, Charlie Riley passed: "It was early 1982 and there we were: him at death's door and me crying my eyes out, watching his life ebbing away," she recently told the Scotland's Daily Record. "Gripped by the sheer helplessness of knowing that at any moment his sun would dip for the final time, I made a silent promise; to discover as much information about Scottish Travellers as it was possible to find, and write a book, a simple, easy to read book."
 As well as writing books, Jess Smith was the "tireless" leader of a long and ultimately successful campaign to save from destruction the 'Tinker's Heart', in Argyll.
For centuries, the Tinker's Heart was the "Gypsy Wedding Place" where the Travelling people of Scotland would go to get married and have their babies blessed at the Lochgoilhead cross roads, looking out over loch Fyne. Weddings were still taking place there until the late 1970s and the Heart remains a site of pilgrimage to many Travellers.
The Tinker's Heart, now an officially listed monument, is also a sacred place to remember the dead, evident by the coins and flowers that lie scattered at the Heart: some people still visit to pay respect and honour their ancestors.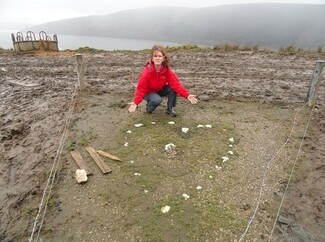 "The Tinkers' Heart is not a huge site in physical terms, but in terms of love, of memory and of sacred significance, it is a site of enormous proportions and cultural, historical and religious significance," Jess Smith told the TT's Damian Le Bas back in 2014, when the fate of the Tinker's Heart still hung in the balance.
"The Travelling people who have lived and contributed to Scottish culture for centuries have only this little place as proof of our existence," she said.
Well done Jess Smith - from all at the Travellers' Times!
TT News
(Lead photograph: L-R; Bailie Chris Ahern, Lord-lieutenant Stephen Leckie, Jess Smith, Provost Xander Mcdade and Deputy Lord-lieutenant Sue Jardine-Paterson (c) Jess Smith)
---