'Once upon a time' – Richie Smith wins award for his story
27 June 2023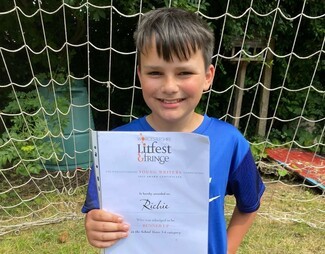 Richie Smith, a year 6 student, was recently awarded second place for his creative writing skills as part of a competition held by Worcestershire Literary Festival and Fringe 2023. Young writers from primary schools across Worcestershire were invited to submit their short stories on the theme of forgiveness. The Award ceremony took place at the Swan Theatre in Worcester on Sunday 11th June. 
We wanted to say a huge well done from all the Travellers Times team and hope to see more of your work published in our magazine in the future! 
Richie Smith's story:
Once upon a time there was a small village nestled in a valley surrounded by lush green hills. The villagers were known for their kindness and hospitality. There was an old man named Samuel who lived in the village. Samuel was known for his wisdom and kind heart. He would always help anyone who needed it. 
One day a young man named Jack came to the village. Jack was rude and arrogant. He didn't like the villagers and would often insult them. He would even steal from the villagers. Everyone in the village hated Jack, except for Samuel. 
Samuel saw something in Jack that no one else could see. He saw that Jack was hurting inside and that he needed help. Samuel decided to talk to Jack and offer him some advice. Jack was surprised by Samuel's kindness and was touched by his words. 
Over time Jack began to change. He apologised to the villagers for his behaviour and even returned the things he had stolen. The villagers were amazed by the changes in Jack and they forgave him. Everyone, except one person - the village elder. The village elder had lost his son to Jack's recklessness and he could never forgive him. 
One day, the village elder fell ill. He was in great pain and no one could help him. Jack heard about the elder's illness and decided to visit him. He apologised for his past behaviour and asked for forgiveness. The elder was hesitant at first but he saw the sincerity in Jacks eyes and forgave him. 
The next day, the elder's health miraculously improved. The villagers were amazed and they realised the power of forgiveness. They knew that if they could forgive someone, they could change their lives forever. From that day on, the villagers lived in peace and harmony. They knew that forgiveness was the key to happiness and they would never forget the lesson that Jack had taught them. 
By Richie Smith
Lisa Smith/YTT
(Photograph courtesy of Richie Smith family)
---