Ex-West Ham player visits Brighton Traveller site with Kick It Out
6 October 2022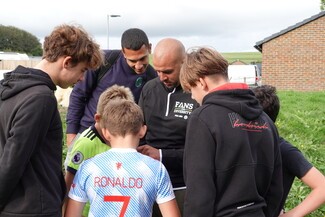 Last week, England C Team coach and ex-West Ham player Anwar Uddin MBE visited St Michael's Way Traveller site in East Sussex, along with anti-discrimination charity Kick It Out for football games and knowledge-sharing with young Irish Travellers.
During the well-attended visit, the young Travellers turned out in the kits of their favourite teams, with the former professional footballer and Louis Bamgboye from Kick It Out kindly donating footballs, goalposts and other equipment.
Watch the Travellers' Times video of the event below:
 Speaking about the football session, Tommy Buck, Projects Coordinator at Friends, Families and Travellers said that the visit was a learning experience for the young Travellers.
"Our youth outreach team has been working with local young people for a number of years, making positive impacts with mental and physical health through football," said Tommy Bucks.
"Meeting Anwar and working with Kick It Out was a great opportunity to meet learn an ex-professional footballer and learn how to make a career out of sport from someone who has lived it for real.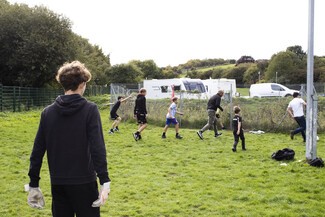 Anwar spent time answering questions about his career, shared photographs and videos of his personal highlights (including a cup final at Wembley Stadium!) and even went through some of his training drills.
 Anwar Uddin said that they had received a warm welcome at St Michael's Way.
"This is the first time we have had the chance to work with young Irish Travellers," said Anwar Uddin. "We received such a warm welcome at the site and learned as much from the community as they learned from us! We can't wait to get back and expand on what was a very positive afternoon."
Before wrapping up an exciting and inspiring afternoon, the group enjoyed a football match which ended with a nail-biting penalty shootout finish!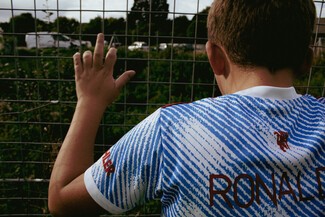 Future plans include match day and behind the scenes visits to Falmer Stadium, the home of Brighton & Hove Albion, as well as a chance to play on the team's state-of-the-art 4G training pitch.
In partnership with Friends, Families and Travellers, the football session marked the first time that Kick It Out have visited a Traveller site. Formed in 1993, the charity aims to end discrimination in football through educational programmes for players and fans alike.
Kick It Out are keen to work more closely with Traveller and Romany communities up and down the country, and if you know of a site wishing to get involved then get in touch here.
John Henry Phillips/FFT /TT News
(Lead photo: Anwar Uddin showing the young Travellers a video of him scoring a goal from the halfway line! © Mike Doherty. All other photographs © John Henry Phillips/FFT)
---