'Anti-Traveller' wide injunctions to be challenged in Supreme Court
31 October 2022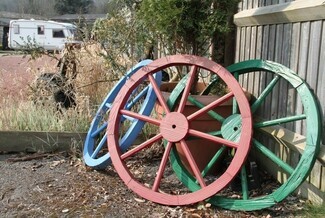 Campaigners are off to the Supreme Court to challenge the increasing use by councils of "discriminatory and disproportionate" injunctions which effectively ban Gypsies and Travellers from stopping on public land.
Since 2015, an increasing number of local authorities have used 'wide injunctions' to create blanket bans on stopping and camping on wide swathes of public land. This has a disproportionate impact on nomadic Gypsies and Travellers and contributes to the long-standing shortage of sites and stopping places.
 Friends, Families and Travellers, along with London Gypsies and Travellers and Derbyshire Gypsy Liaison Group, have been granted permission by the Supreme Court to appeal a decision made in March 2022 by the Court of Appeal, which, to the dismay of campaigners, overruled a previous successful High Court challenge which effectively put a stop to councils' use wide injunctions.
Abbie Kirkby, Policy and Public Affairs Manager at Friends, Families and Travellers said that they were determined to continue challenging the discriminatory and disproportionate use of these injunctions.
"If local authorities do not identify suitable stopping places for nomadic communities, then they must not be allowed to use punitive measures to cover up their failings," said Abbie Kirkby.
"There are common sense solutions to addressing the accommodation needs of Gypsies and Travellers, that work with families, not against them."
The Supreme Court also ordered that there should be no costs award either for or against the appellants. The date for the next court case is yet to be confirmed.
The appellants will be represented at the Supreme Court by Chris Johnson of Community Law Partnership (CLP), Marc Willers KC, Tessa Buchanan and Owen Greenhall of Garden Court Chambers, and Richard Drabble KC of Landmark Chambers.
Barrister Marc Willers KC of Garden Court Chambers said that they were delighted that the Supreme Court had given leave to appeal with a protected costs order.
"This is an extremely important challenge not only for Gypsies and Travellers who have to resort to staying on encampments through no fault of their own but also to others who are adversely affected by such wide Injunctions, such as environmental protesters," said Marc Willers.
A message from Community Law Partnership:
We are delighted to inform our readers that the application for permission to appeal to the Supreme Court by three leading Traveller organisations in this matter concerning wide injunctions has been successful. 
As ordered by the Supreme Court, you can download the following documents below:
 TT News/FFT press release
(Picture © Damian Le Bas)
---