The Deathless Woman film goes on tour
21 April 2022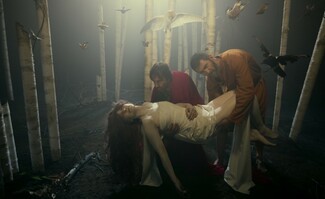 Writer, director Roz Mortimer's urgent and magical hybrid documentary The Deathless Woman -- a response to the virtual erasure of the history of Roma from our cultural memory of the Holocaust --  will tour to seven UK cities and towns from May to July, including Glasgow, Bolton, Erith, Manchester, Chester, Sheffield and Leeds.
Through panel discussions with Roma artists and activists, Romani Language Workshops led by Juice Vamosi - who was Romani Language Consultant on the film - and screenings, The Deathless Woman tour seeks to open debate and inspire social change. Coinciding with Gypsy, Roma and Traveller History Month, the tour is supported using public funding by the National Lottery through Arts Council England, and will be supplemented with multilingual versions of the film, made available online.
A ghost story for the 21st Century, Roz Mortimer's debut feature fluidly interweaves theatrical re-imaginings of buried secrets with a ghostly narration in the Romani language, and direct to camera testimony from survivors and witnesses of historic and contemporary crimes against the Roma in Poland and Hungary.
A Roma woman buried alive in a forest in Poland during WWII returns to haunt us, uncovering a history of atrocities against the Roma in Europe. She is the Deathless Woman. Motivated by rage, she rises from her grave to draw our attention to the persecution of the Roma people from the 1940s to the neo-Nazi hate crimes of the present day.
The Deathless Woman, which was originally inspired by Ágnes Daróczi and János Bársony's book Pharrajimos: The Fate of the Roma During the Holocaust, comes out of a prolonged period of research by writer-director Roz Mortimer, who has been working with Roma communities in London, Poland and Hungary for over 10 years.
Says Roz Mortimer, writer, director, producer, "I came to this story as an outsider, knowing nothing about the history of the atrocities against the Roma. Like the Seeker character in the film, I had to follow my instinct, my empathetic and emotional responses to events, and seek out first-person testimony, because there is so little in the archives, libraries and history itself about the Roma and what happened to them in WWII. In telling a story when there is nothing there, we had to take a creative approach to events in the forests, the Auschwitz Birkenau camp and the internet, which remains full of hate speech and prejudice, today".
Says Juice Vamosi, Romani Language Consultant, "It has been an honour to bring my 30 years' experience, gathered across a wide range of dialects, to The Deathless Woman, which is the first Roma Holocaust film in Romani language. Most Roma live under the poverty line and remain the most disliked and the least understood people in the UK and Europe. To compensate for the lack of a homeland and physical home, Roma developed a rich culture, language, and social interaction rules rarely covered in films or books. I learned most dialects through translation and filmmaking work over the last three decades and I am very pleased to be leading the Romani Language Workshops during the tour".
Up to 500,000 Roma are believed to have been killed during WWII, possibly half of the population in Europe at that time, and to this day Roma activists battle for recognition of this event. It was finally acknowledged as genocide by West Germany in 1982.
The Roma are today still one of the most marginalised minority ethnic groups in Europe. However, despite sharing a common language (Romani) and heritage, the Roma are also a diverse range of groups who do not worship a single faith - factors which may have contributed to a lack of awareness of the Roma Holocaust, also known as Porajmos (the Devouring).
Tour details:
GLASGOW, 21 MAY 2022
14:00 - Romani Language Workshop
18:00 - The Deathless Woman introduced by Rahela Cirpici of Romano Lav, followed by a discussion with director Roz Mortimer
Both events at The Point, Community Hub, 180 Queens Drive, G42 8QD
BOLTON, 28 MAY 2022
16:00 - Romani Language Workshop at Victoria Hall, 37 Knowsley St, BL1 2AS
18:00 - The Deathless Woman introduction by Maria Palmai of Kaskosan & followed by a discussion with director Roz Mortimer at Bolton Light Cinema, Market Place Shopping Centre, BL1 2AL
ERITH, 11 JUNE  2022
15:00 - Romani Language Workshop 
17:00 - The Deathless Woman & discussion with director Roz Mortimer
All events at Erith Exchange, The Old Library, Walnut Tree Road, DA8 1RS
Events take place alongside 'Crossing Boundaries', an exhibition of artworks, maps and oral testimonies exploring Roma, Gypsy and Traveller lived experiences
MANCHESTER, 18 JUNE 2022
13:30 - Romani Language Workshop 
15:30 - The Deathless Woman introduced by Juice Vamosi and followed by a discussion with director Roz Mortimer.
Both events at HOME, 2 Tony Wilson Pl, M15 4FN
CHESTER, 25 JUNE 2022
13:00 - Romani Language Workshop 
15:00 - The Deathless Woman & discussion with director Roz Mortimer
Both events at Storyhouse, Hunter St, CH1 2AR
SHEFFIELD, 2 JULY 2022
14.00 - Romani Language Workshop at Firvale Community Hub, 127 Page Hall Road, S4 BGU
16.00 - The Deathless Woman & discussion with director Roz Mortimer at Firvale Community Hub, 127 Page Hall Road, S4 BGU
Time tbc - The Deathless Woman & discussion at Sheffield Light Cinema, The Moor, Sheffield City Centre, S1 4PF
LEEDS, 3 JULY 2022 TBC
Time tbc - Romani Language Workshop 
Time tbc - The Deathless Woman & discussion with director Roz Mortimer
Both events at Hyde Park Picture House at Leeds University Union, Lifton Place, LS2 9JZ
'A powerful and poetic account of WWII Roma genocide and its contemporary resurrection. Hugely successful on both an artistic and a political level, it is a remarkable piece of work.' (BFI London Film Festival)
---