Disney+ adds content warning in The Muppets shows featuring 'negative depictions' of Romany Gypsies
22 February 2021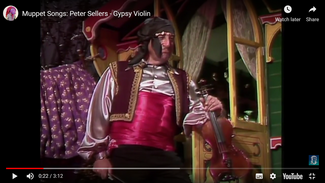 Disney+ has added a new disclaimer to old episodes of The Muppet Show, warning of "negative depictions and/or mistreatment of people or cultures" throughout the series, reports The Guardian.
Two of the shows given warnings feature caricatures of Romany Gypsies.
Disney+ has not detailed the "negative depictions" but in a 1978 episode given a content warning, Peter Sellers appears in a segment titled A Gypsy's Violin wearing a black headscarf with gilded trimmings, a red vest and a large red satin belt, and singing in a heavy accent lines such as: "Once his love gave him golden earring / And now the ears are turning green."
Sellers is introduced by Kermit as a "demented Gypsy violinist".
"These stereotypes were wrong then and are wrong now," say Disney+
Another episode given a content warning, according to a Muppet Show expert on Reddit, was most likely for the Jonathan Winters Native American segment, and a subplot with a Gypsy Muppet placing a curse. The Gypsy Muppet also performs the "Golden Earrings" segment.
Other episodes given content warnings include one episode, from season five in 1980, where Johnny Cash performs while standing in front of a Confederate flag. In another, from season three, Spike Milligan appears in a multitude of caricatured national costumes as part of a performance of It's a Small World After All, including as a Chinese person with exaggerated front teeth and a long braid.
The platform began streaming Jim Henson's family variety show on 19 February but prefaced 18 of its episodes with a content advisory that adds: "These stereotypes were wrong then and are wrong now. Rather than remove this content, we want to acknowledge its harmful impact, learn from it and spark conversation to create a more inclusive future together."
TT News
(Main picture: A You Tube screenshot of Peter Sellers pretending to be a Gypsy)
---