"We have nowhere else to go"
26 January 2022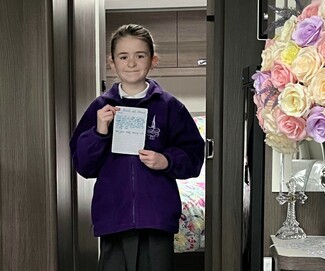 Mel Mounsey, a young Romany Gypsy child from Newark, has written a heart-rending letter to her local council appealing to them to let her family and friends stay on the land that they own.
"Please let us stay on our land," writes Mel. "We are not nasty people like people think."
Mel is part of six Traveller families who have a planning appeal today which is being held at the Newark and Sherwood District Council offices in Nottinghamshire.
The families were told by the local council to move off the land because they didn't have planning permission to live there.
The families initially appealed to the Planning Inspectorate - which sided with the local authority.
But that decision was quashed by the High Court in October 2020.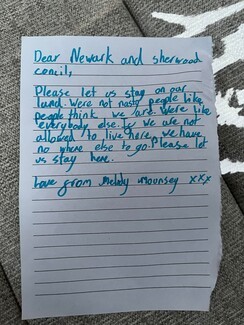 Today the families are back for the redetermination of the planning appeal where a planning inspector will decide whether they can stay on their land permanently, temporarily or to refuse them planning permission leaving them homeless with nowhere to go apart from back on the side of the road.
Newark and Sherwood District Council has found it needs to deliver 77 sites for the Gypsy and Traveller community by 2024 - and 118 sites by 2033.
"We have nowhere else to go," continues Mel Mounsey in her letter. "Please let us stay here."
Good luck Mel from all at the Travellers' Times xxx
Mike Doherty/TT News
---