Campaign against threatened anti-Traveller law rolls on to Appleby and beyond
24 August 2021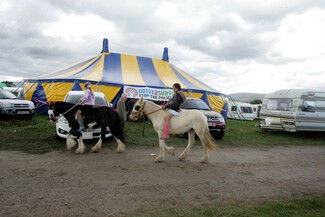 Appleby Horse Fair has played host to its first ever event big top in its 500-year history as the campaign against the new anti-Traveller laws continues – and campaigners look ahead to the Conservative Party Conference at Manchester in October.
The Drive2Survive campaign crew turned up at the famous Cumbrian Appleby Horse Fair last week with their big top campaign tent to spread the news about their campaign against the threatened new Government law that threaten to destroy the Traveller way of life.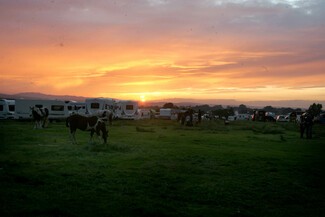 Drive2Survive were welcomed on to Fair Hill by Shera Rom Billy Welch, the Romany Gypsy lead on the fair's organising committee, who is also concerned about the anti-Traveller bill that is set to become law within weeks.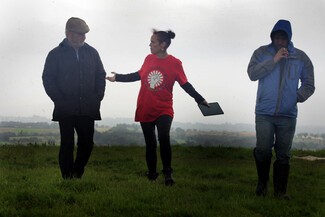 The big top campaign event was part of a Gypsy, Roma and Traveller led 'summer of discontent' against the new racist police bill which will "wipe out" Gypsy and Traveller and other nomadic cultures by criminalising trespass with the intent to reside in a vehicle," say campaigners.
WATCH: Katu sings and plays music as the sun sets on Fair Hill, Appleby Horse Fair 2021.
Sherrie Smith, Co-Chair of the Gypsy, Roma and Traveller led Drive2Survive, said that they used the campaign big top to show films, hold an exhibition, hand out leaflets and posters and to hold a talent competition in the evening to draw people in so they could find out more about the threatened new anti-Traveller law – and how to combat it.
"Drive2Survive would also like to thank Moving for Change for their contribution and everyone who made it possible by donating to our crowdfunder," said Sherrie Smith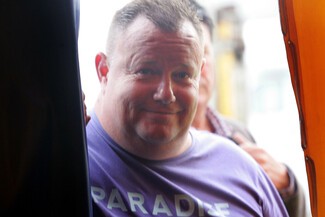 Jake Bowers, Co-Chair of Drive2Survive, vowed to fight the new law to the bitter end.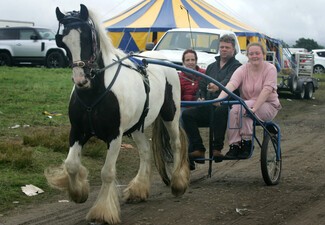 "Gypsies and Travellers will not go into history books quietly," said Jake Bowers. "In fact, we will not be going into the history books at all."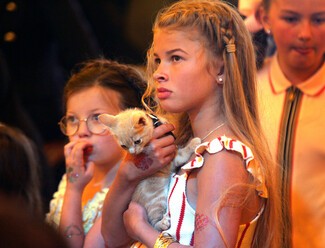 The new law, part of the Police, Crime, Sentencing and Courts Bill, was part of the Conservative Party 2019 General Election manifesto and was voted through in Parliament earlier this summer and looks set to be passed through the House of Lords and become law by the Autumn.
WATCH! Channel 4 News programme about Drive2Survive at the Appleby Horse Fair:
The Government say that the new offence of criminal trespass will target:
A person aged 18 or over resides or intends to reside on land without consent of the occupier of the land;
They have, or intend to have, at least one vehicle with them on the land;
They have caused or are likely to cause significant damage, disruption or distress;
They, without reasonable excuse:

Fail to leave the land and remove their property following a request to do so by an occupier of the land, their representative or a constable; or
Enter or, having left, re-enter the land with an intention of residing there without the consent of the occupier of the land, and with an intention to have at least one vehicle with them, within 12 months of a request to leave and remove their property from an occupier of the land, their representative or a constable.

Reasonable suspicion that a person has committed this offence confers power on a constable to seize their vehicle/other property for up to three months from the date of seizure or, if criminal proceedings are commenced, until the conclusion of those proceedings.
The new law will affect England and Wales - but not Scotland.
WATCH: Award winning folk singer Sam Lee sings 'You Subjects of England', the Drive2Survive anthem.
The Government have recently backpedalled on what they say about the new anti-trespass law. When they announced their intentions in their 2019 manifesto, they called all "unauthorised camps" a "blight." They have now tried to re-assure people by releasing statements saying it will only affect Travellers on camps that behave badly. The Government has also said that there had been a 41% increase in new legal Traveller pitches since 2010 – a statement that amounts to a 'non-truth'  according to fact checkers at campaign charity Friends Families and Travellers.
Speaking on the Home Secretary's non-truth, Abbie Kirkby, Public Affairs and Policy Manager at Friends, Families and Travellers said:
"The Home Secretary misleading Parliament on the Government's 'progress' over the past 10 years demonstrates either a lack of knowledge on the subject, wilful ignorance or convenient manipulation. This isn't just about Parliament but it's about misleading the public at large.
To paint a rosy picture on site provision is far from the truth and completely wrong for the Home Secretary to use this to justify the actions of Government which in this instance will criminalise entire communities and their way of life."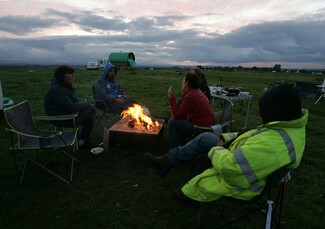 However, campaigners have warned about trusting the Government, councils and police to use the new law proportionately and fairly and point out that criminalising someone for what a police officer believes they may be "likely to do", as the law states, is a bizarre inversion of justice.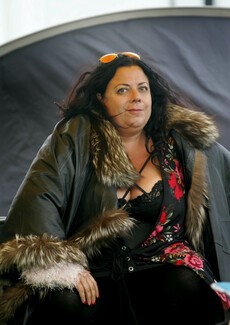 Campaigners also point out that the Police already have sufficient powers to deal with anti-social behaviour and criminality on Gypsy and Traveller camps on public land, and that private land-owners can swiftly evict camps using common law. The laws are draconian and unnecessary, they say.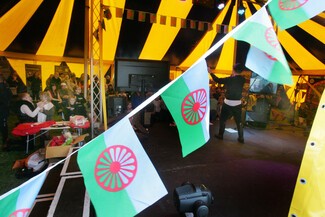 Even the Police seem to agree with this, with the Police Chief's Council stating that they don't want the new law and that councils need to provide more legal sites and stopping places.
WATCH! Cumbrian Police Constable Tony sings 'One Love' in the Drive2Survive 'Appleby's got talent' contest:
The law firm Community Law Partnership say that the anti-Traveller part of the Police Bill breaks human rights and equalities laws and they are set to challenge it in court once it becomes law.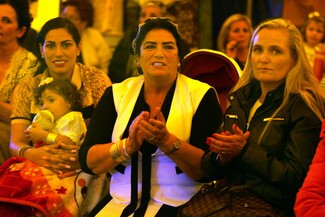 The Police Bill doesn't only contain an attack on GRT communities, it also gives the Government and the police new powers to restrict peaceful protests, include a ten-year sentencing tariff for damaging a statue, increases the powers of police to stop and search with no evidence and introduces more secure institutions for young people.
WATCH! Traveller children perform at Appleby's got talent:
Drive2Survive was formed to fight against the Police Bill and have threatened a 'summer of discontent' to make clear their defiance against the threat to Travelling culture and to show opposition to the new law.
WATCH! Drive2Survive video 'A summer of discontent':
The summer of discontent got of to an "explosive" start a couple of months ago at a rally at Parliament Square, London, on July 7th.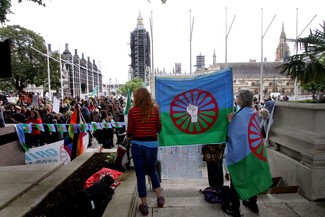 Over 500 people came to the rally on 7th July, 2021, at Parliament Square, London to demonstrate against the police bill in front of the heart of British Government. Every Gypsy, Roma and Traveller community and nomadic culture was there to make history, including Romany Gypsy, Kale, Scottish Travellers, Irish Travellers, Showmen, New Travellers, Van Dwellers and livaboard itinerant Boaters.
WATCH! 'Gypsies, Roma and Travellers make history' – Drive2Survive Parliament Square July 7th, 2021:
Because the Police Bill contains lots of other controversial measures, Gypsy, Roma and Traveller activists were joined by campaigners from Black Lives Matter, XR, Kill the Bill, Peoples Assembly, Stand Up To Racism and Human Rights group Liberty. Campaigners were also joined by politicians, including Zarah Sultana MP, Andy Slaughter MP and Dame Shami Chakrabarti.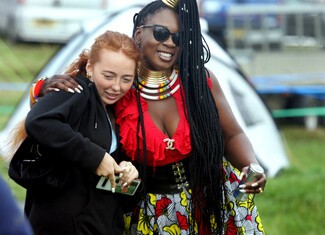 Drive2Survive has also been joining Kill the Bill rallies as they spark off across England and Wales to gather allies and to show solidarity. They have also been taking part in and holding their own Zoom seminars to raise awareness about the potential effects of the anti-Traveller part of the Police Bill.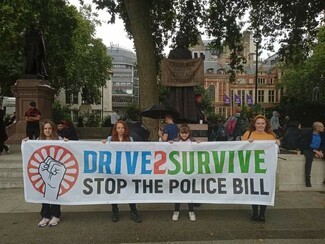 New Traveller members and allies of Drive2Survive have also been doing their bit to spread the news about the threatened new law by holding campaign workshops and exhibitions at commercial festivals, and banner drops and protest park-ups by busy roads.
WATCH! Protest songs - Jay Terrestial performs a semi-acoustic set at the Northern Green Gathering festival:
The No Fixed Abode Travellers campaign group also helped to spread the word by holding a protest banner-making workshop focussed on resisting the police bill at the Northern Green Gathering in Lincoln in early August.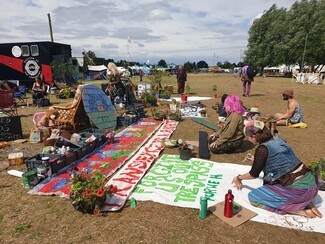 Drive2Survive campaigners say that the next big action will be a rally at the annual Conservative Party Conference in Manchester on October 2nd and are urging all Gypsies, Roma and Travellers and supporters to come along. The conference will be taking place all week, and there will be many different protests and rallies taking place as well.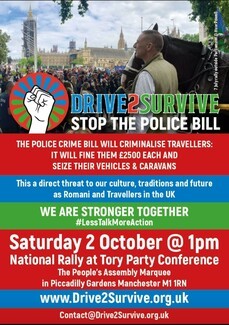 This could be the last event before the Police Bill becomes law, say Drive2Survive, although they vow to continue their fight until the law is brought down.
WATCH! After the fair; Drive2Survive Sherrie Smith interviews Billy Welch:
Watch! photos from Appleby set to music by Romani musician Bob Lovell. Images by Huw Powell
---