Experts say coronavirus can't be caught from horses
20 March 2020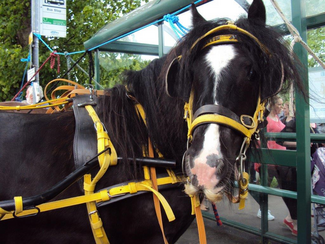 Horse welfare experts and vets have reassured worried people that coronavirus cannot be caught from horses.
Speaking to the Travellers' Times, John Wilson, Traveller and Equine Liaison Officer for Peabody, said that rumours on social media that horses infected with equine coronavirus could pass that onto humans were not true. 
Coronavirus - or Corvid-19 - is a virus which has known to have infected over a quarter of a million people over the world in under four months. It is now in the UK. The virus attacks the lungs and can cause respiratory problems. Although most people recover with no ill effects, the UK Government warned people over 70 and people with asthma, diabetes, heart conditions and other chronic illnesses to stay inside and has taken the unprecedented step of putting the U.K in lock down, meaning all bars, restaurants, cinemas play areas and parks have been closed and everyone must stay at home and only go out for these 4 reasons:  
> To shop (as little as possible) and only for basic necessities
> To take one form of exercise a day, alone or with members of family (this could be to go and feed or care for your horse) 
> For medical need or to provide care for vulnerable person
> To travel for essential work only 
Corvid-19 is a different type of coronavirus to the type horses can get say vets, and humans cannot get infected by it. 
"Many people are trawling the internet to find out about coronavirus (and) discover something called equine coronavirus," said John Wilson.
"Equine coronavirus is an enteric, or gastrointestinal, disease in the horse," he added.
"There is no evidence that Equine Enteric Coronavirus poses a threat to humans or other species of animals. Equine coronavirus is transmitted between horses when manure from an infected horse is ingested by another horse (fecal-oral transmission), or if a horse makes oral contact with items or surfaces that have been contaminated with infected manure."
If you are worried about coronavirus, then check out our series of advice and information videos, made especially for Gypsy, Roma and Travellers, by clicking on this link: CORONAVIRUS: INFORMATION FOR GYPSIES AND TRAVELLERS
TT News
(Photograph: Appleby 2014 by Mum Cumbria)
---