Lawyers stall Bradford Traveller site eviction
7 April 2020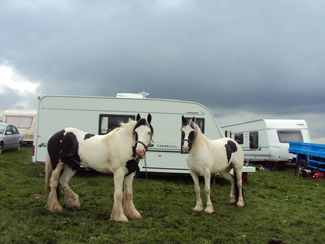 Lawyers from the Travellers Advice Team have stalled an eviction of a Traveller woman from a council site in Bradford.
The woman rang the Travellers Advice Line and said that Bradford City Council had told her to vacate the pitch she was on because she was 'doubling up' on and to then leave the site (doubling up means sharing another pitch with another caravan).
The Travellers Advice Team intervened and now the woman has been given her own pitch by Bradford City Council.
From Travellers Advice Team lawyer Parminder Sanghera:
"Our client had been given the contact details for the Travellers Advice Team (TAT) (we are based in Birmingham) by another resident on the St. Mary Street Caravan Site in Bradford.  The client, who had been doubling up with another resident with the Council's permission, instructed TAT that she had been told to leave the pitch she was doubling up on and to leave the site.  TAT was also instructed that Bradford City Council had refused to allow her to move onto one of the other vacant pitches.
A Judicial Review Pre-Action protocol letter was urgently e-mailed to Bradford City Council setting out the reasons why its decision was unreasonable and susceptible to challenge. 
TAT then received a response from Bradford City Council which denied that a decision had been taken to evict our client.  The response from Bradford City Council also confirmed that our Client had been granted a pitch on St. Mary's Street Caravan Site.
This was clearly a brilliant outcome for the client who was undoubtedly extremely worried about the possibility of becoming homeless during the COVID-19 pandemic."
Despite the current situation, the TAT Advice Line is available on 0121 685 8677 Monday to Friday  9am to 1pm
TT News
---