Charity encourages Gypsies and Traveller carers to take part in Carers UK survey
7 May 2019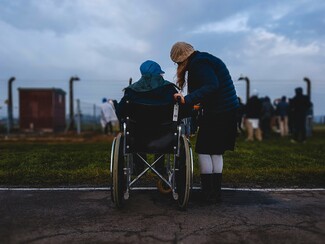 Friends Families and Travellers (FFT) is encouraging Gypsies and Travellers to take part in a survey by a leading campaign group for people who care for a friend or family member due to illness, disability or mental health problems without payment.
Carers UK want to know what life is like for you, if you are a carer. They will use your experiences to campaign to policy makers for better support services and financial support for carers, say FFT.
Members of the Gypsy, Roma and Traveller communities often care for friends and relatives. If you would like to share your experience, find out more below.
"Do you look after a friend or family member who's older, seriously ill or disabled? We need your help to paint a picture of what it's like to be a carer in 2019," said Carers UK in a statement on their Facebook page.
Your evidence will help us to campaign for recognition and change. Take the State of Caring survey now by clicking on this link: TAKE THE CARERS UK SURVEY. 

Last year in the 2018 survey, over a third of carers described their financial situation as 'struggling to make ends meet', while a further one out of five said they are in or have been in debt as a result of caring.
Nearly 3/4 of carers said they had suffered mental ill health as a result of caring and more than half reported physical ill health as a result of caring. 
Are you a Gypsy or Traveller and are you caring for an elderly or disabled relative? Do you want to tell us your story? Contact the Traveller's Times on TravellersTimes@ruralmedia.co.uk.
By TT News
(Main photo: Stock image by Josh Appel on Unsplash)
FFT have published useful information for Gypsies and Travellers caring for others, which can be read by following this link:  SUPPORT FOR CARERS.
---