Sculpture will express Gypsy/Travellers' pride in culture
12 December 2018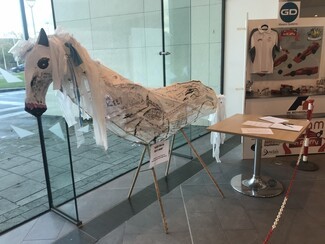 A unique art piece has taken up residence at The College Merthyr Tydfil this week as part of a project to increase awareness and acceptance of the local Gypsy/Traveller community.
A life-size horse named Diamond has been installed in the college foyer by children and young people from the County Borough Council's Glynmill Gypsy/Travellers' site.
The horse's body frame and face is made from papier maché and willow, the legs from broomsticks and the mane and tail out of old rags. The sculpture is lit up from inside to create a giant lantern. To complete the sculpture, community members wrote messages all over the horses expressing voice and cultural values, to include such phrases as 'keep calm and travel on' and 'I move a lot - I go from place to place'.  There is also a positive comments book and GRT factsheet sheets to take away.
"The aim of the exhibition, called "Straight from the Horse's Mouth", is to promote equality and cohesion and express the community's pride in culture," said Lillie Bramley, the Council's Gypsy/Roma/Traveller (GRT) Community Officer.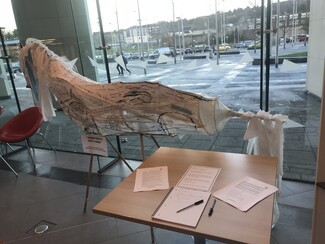 The horse was created in partnership with the Charity Artis Community, funded by BBC Children in Need.  Partnership plans are to develop the new on-site arts and literacy programme.
Judith Mulry, Learner Welfare Services Officer/Inspire to Achieve Project Manager said the college was pleased to work alongside Lillie and to offer an exhibition space to display the young people's artwork.
"The college is an inclusive community and welcomes applications from under-represented groups," she added.  "The horse, accompanied by the factsheet, offers the perfect opportunity to promote the GRT community.'
 
---