News flash! - Lawyers set to challenge the government's unauthorised camps review in the High Court
5 May 2018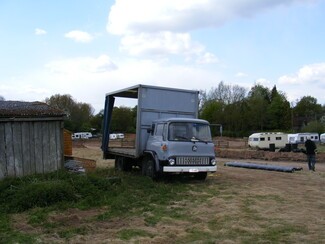 Leading Gypsy and Traveller lawyers have announced that they are set to challenge the government's controversial unauthorised camp review – and believe that they could win and bring the consultation down in the high court.
Chris Johnson from Community Law Partnership and Marc Willers QC from Garden Court Chambers today published a legal paper with the Travellers' Times explaining why they think the review is unlawful – and why they think that they will beat the government in court.
The lawyers say that the review is "fatally flawed" and  "susceptible to challenge by way of judicial review" because of its misleading statements, its failure to identify reasonable alternative options and because it fails to comply with public sector equality laws.
The lawyers add that they would like people who will be affected by the review to come forward if they think they may want to make a challenge.
"We feel that this consultation paper is fatally flawed," say the lawyers.
 "It fails to present site provision as a realistic alternative option to the various suggested ways in which enforcement powers could be strengthened and misleads consultees on one of the main options advanced," they add.
"It also seems to us to demonstrate a complete failure on the part of the Government to comply with its public sector equality duty."
"In the circumstances we have come to the conclusion that this consultation is susceptible to challenge by way of judicial review and that it should be withdrawn and redrafted."
Community Law Partnership are famous for their successful High Court challenge to former Communities minister Eric Pickles' controversial policy of calling in Traveller site planning applications for his own determination. Pickles was found by a judge to have been illegally discriminating against Gypsies and Travellers.
The unauthorised camp reviews has been condemned by leading Gypsy, Roma and Traveller NGO's and leading human rights organisations in a letter sent by the charity Friends, Families and Travellers to Housing Minister Dominic Raab.
Dominic Raab was recently in the news because one of his aides was allegedly caught selling sex to rich men in a Daily Mirror sting operation.
If you want a chat about this or need advice or want to bring forward a challenge, please contact the Travellers Advice Team at the law firm Community Law Partnership on their advice line which is 0121 685 8677 ( Monday to Friday 9am to 5pm).
By Mike Doherty/TT News
(Main picture © Damian Le Bas)
---