Tributes to Rodney Bickerstaff
11 October 2017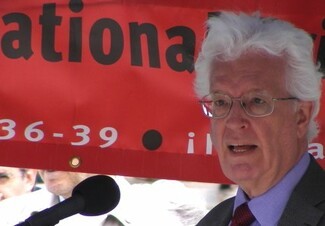 Tributes to Rodney Bickerstaff – Gypsy and Traveller rights campaigner and trade unionist
Rodney Bickerstaffe, former General Secretary of Unison, and great campaigner for Travellers' rights, passed away on the 3rd October, 2017. Here Professors Andrew Ryder and Thomas Acton pay tribute:
Andrew Ryder writes:
Rodney Bickerstaff (1945 to 2017) well known to the public as the general secretary (1981-93) of the National Union of Public Employees (Nupe) and general secretary (1993-2001) of Unison, one of Britain's largest unions, with 1.3 million members has sadly died.
Bickerstaffe was also well known to Gypsy, Roma and Traveller communities on account of his advocacy and campaigning for these communities. Bickerstaffe was one of the few public figures to make such a stand and this commitment sprang from his impoverished childhood in Doncaster where he grew up with and befriended local Gypsies and Travellers. Bickerstaffe had vivid childhood memories of Gypsy friends being evicted and moved on in the Doncaster area.
In the 80s and 90s Bickerstaffe was President of the Labour Campaign for Travellers' Rights (LCTR), a pressure group which hoped to persuade the then opposition Labour Party to reverse the Conservatives' Criminal Justice and Public Order Act (1994) which abolished the statutory duty on local authorities to provide sites. The LCTR felt it had achieved its job by persuading Peter Pike MP (Labour spokesperson with responsibility for accommodation) to support their campaign but when Labour came to power in 1997 Tony Blair failed to appoint Pike to the frontbench as a minister. Addressing Traveller accommodation needs did not seem to be a New Labour priority.
As president of a reformed LCTR Bickerstaffe was assiduous from 2002 in using his contacts within the Labour Party, in particular John Prescott Secretary of State at the Office of the Deputy Prime Minster and Yvette Cooper minister with responsibility for Gypsies and Travellers, to address Traveller accommodation needs. Bickerstaffe was instrumental in getting the Labour government to include Gypsy and Traveller accommodation needs in regional spatial strategies which were later dismantled by the Coalition Government, weakening the drive for more sites.
During the Sun newspaper's anti Traveller 'Stamp on the Camps' articles, and the Conservative leader Michael Howard's populist attempt to surf growing hysteria on this issue by declaring he would scrap Labour's policies as he did not believe in "special rules for special interest groups", Bickerstaffe relentlessly toured the television studios to defend the need for a proper policy framework to deliver more sites.  The need for policies to deliver more sites was absent from the rhetoric of the Sun and Howard but according to Bickerstaffe it was key to raising the life chances of one of the most marginalised groups in society and easing community tensions.
Howard failed to win the 2005 election and during the run up to the poll had caused much anguish by arriving unexpectedly with television crews at the Dale Farm Traveller site to denounce such developments. During that visit Howard failed to call for policies to deliver sites and did not bother to speak to any Traveller residents. After the election Bickerstaffe was able to set up a meeting between Howard and the Traveller spokesperson from Dale Farm, Kathleen McCarthy. In that meeting Howard at last accepted that more sites were part of the solution (1). Bickerstaffe, well known for his quick wit, noted that Howard had just announced he would be standing down as Conservative leader but that he was aware that before entering politics Howard had been a barrister specialising in planning law, Bickerstaffe quipped that Howard was welcome to come and work for Travellers who were in need of such expertise to get sites passed. Howard gave a polite smile.
Bickertaffe, was the model of a campaigner, bringing wit, courage, tenacity and inspiration to campaigns for social justice
Andrew Ryder – researcher (Policy Worker Gypsy and Traveller Law Reform Coalition 2002 – 2006)
(1)  Early day motion 1569 sponsored by Julie Morgan MP - POLITICAL CONSENSUS ON GYPSIES AND TRAVELLER SITES http://www.parliament.uk/edm/2005-06/1569   
Thomas Acton writes:
Rodney Bickerstaffe was a friend of Gypsy families  (including the Day family who went on to become stalwarts of the East Anglian Gypsy Council) from his school days alongside Traveller classmates in Doncaster. He became politically involved, when NUPE under his predecessor as General Secretary, Alan Fisher adopted a policy of instructing its members not to take part in evictions of Travellers, and Rodney was charged with implementing it. When the Labour Campaign for Travellers' Rights (LCTR) was founded in the 1980s he was one of its strongest supporters, always speaking at its fringe rallies at Labour Conferences. Since my office in Thames Polytechnic was only five minutes from the then NUPE headquarters he would from time to time summon me to brief him on the issues.
The early record of the Blair government, especially on Travellers, was to him as to many of us, a disappointment, but he still rallied the fragments of the LCTR to support the Traveller Law Reform Movement. After he retired from UNISON (which NUPE had become after absorbing other unions) he became President of the National Pensioners Convention, where he remained still accessible and ever helpful on issues of older Travellers - or to students who were working on the governance of older people. He was a man of strong Christian faith in the ethical socialist tradition of many Anglicans, and these values informed his whole life.
---