Melvyn carves out a role
28 September 2017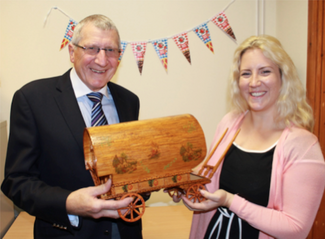 Melvyn Edwards from Aberdare has supported the Bridges project by respectfully restoring an old model wooden wagon. The wagon was donated to SMT last year; however it was in a state of disrepair, with two snapped and broken wheels and dried cracked and dusty wood frame.
A lot of people would possibly through away the tatty piece of art made of millions of carefully carved matchsticks, but thanks to Melvyn Edwards, he kindly spent his spare time, creatively mending the little wooden wagon.  
Melvyn said "It was an absolute pleasure to have the opportunity to work on this piece, how wonderful it would have been to have met the person that made this originally" he also went on to say "I mended this with love."
Melvyn is a retired Welsh gentlemen who attends a carving club and took an interest in wood carving 20 years ago, Melvyn designs and carves Welsh wooden spoons and designed his wife a beautiful piece to celebrate their 50 years of marriage.  Melvyn has offered his time to support the Bridges project in the future and looks forward to the wagon being displayed across Wales as part of our exhibition to break down negative stereotypes and celebrate the vibrant and history relating to Gypsy/Traveller communities. 
---